Women Creating Star Wars Front and Center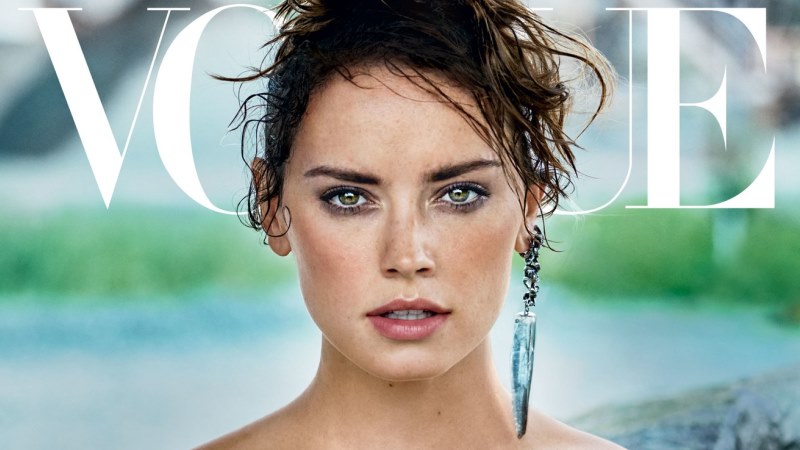 With the release of The Last Jedi trailer this week and the final season premiere of Star Wars Rebels, it is not surprising that people integral to the storytelling process are making headlines. What is truly exciting is that so many of them are women. Here is where you can find them:
Kathleen Kennedy
In an interview for Vanity Fair, Kathleen Kennedy had fun with The Last Jedi director Rian Johnson evading questions about the movie's title.
At an event for Elle's 2017 Women in Hollywood honorees, Lucasfilm's president used her turn at the microphone to address the issue of sexual harassment in the movie industry. Her speech proposed actionable steps that can be taken to protect women.
"Because of course, this kind of abuse is epidemic. In every sector of industry and throughout our society, and we have to act to change that. We should have acted long ago. We must act now. I believe that with determination, hard work, a willingness to act, and a recognition of the urgency of immediate action, it is absolutely possible to protect people from sexual terrorism in their places of employment."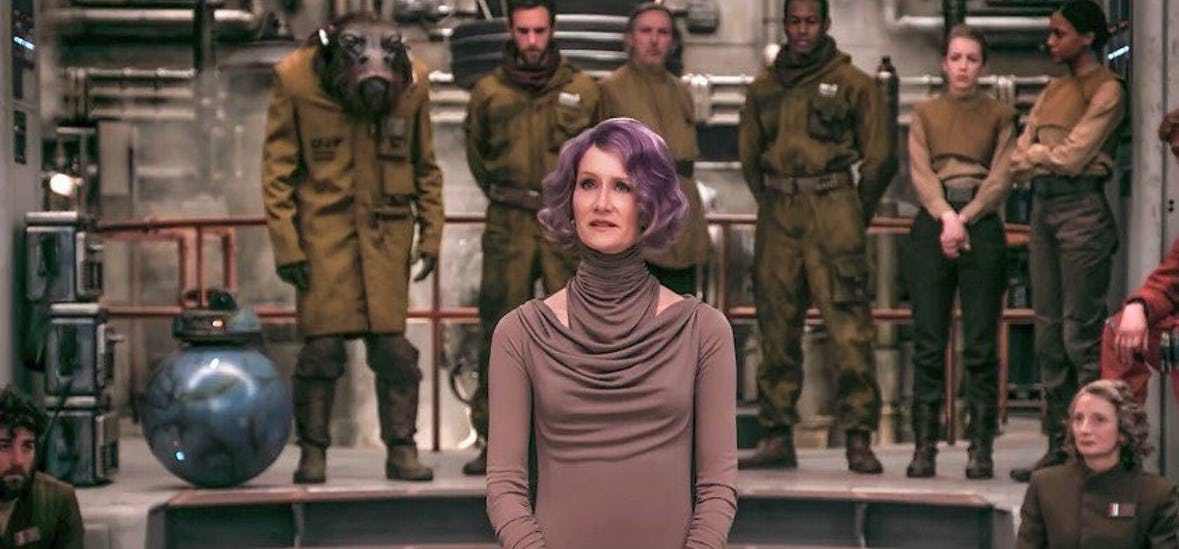 Laura Dern
Laura Dern joined Kathleen Kennedy on the cover of Elle's 2017 Women in Hollywood edition. The actress has had a big year, with her name being thrown in the hat for president of the Academy of Motion Picture Arts & Sciences and her Emmy win for Big Little Lies. Like Kennedy, she spoke up in the wake of the Harvey Weinstein scandal, sharing her own sexual harassment story. On The Ellen Degeneres Show, Dern revealed a new image of her pink-haired character Admiral Amilyn Holdo and talked about working with Carrie Fisher.
Daisy Ridley
The actress who burst into the spotlight in the role of Rey in The Force Awakens sat down with Vogue. Her directors J.J Abrams (Episode VII) and Rian Johnson (Episode VIII) share insight on how Ridley has helped shaped the character.
While Abrams was shooting The Force Awakens, Rian Johnson was writing The Last Jedi. As he watched the daily footage shot by Abrams, he felt he understood Rey better and began to write in response to what he describes as Ridley's "spirit." She brought the character to the screen, Johnson says, "in a way that made you root for her, like you were seeing yourself in her. You saw the story through her eyes." Though Ridley has done a great deal of press for The Last Jedi, the film's contents are so shrouded in secrecy that she is allowed to say very little about it. She lets on that we'll find out more about what has happened to her family, and says it goes from being a physical journey with a friend (Finn, played by John Boyega) to an emotional journey with a stranger (Luke Skywalker, whom she meets on top of a mountainous island at the end of The Force Awakens). "More of a conversation, as opposed to a big adventure," she suggests.
Carrie Anne Beck
Lucasfilm Story Group member and Vice President of Animation Development, Carrie Beck has overseen more visual storytelling than most. From The Freemkaker Adventures to Star Wars Rebels, Beck has put her stamp on stories that will shape the next generation of fans and creators. She tells SyFy about working in television:
"Television allows you a format to really get to know these people to a greater degree. There's so much you wouldn't necessarily have the time to tell. It would be driven by "What is the essential storyline to tell within the plot?" The rest would fall away. [On television, everything] adds up and makes sense. We've had a tremendous amount of narrative real estate to do all of this work. To set all of these stories up."
Kiri Hart
Variety's 2017 Women's Impact Report included Lucasfilm's Senior Vice President of Development Kiri Hart. She talked about creating strong female characters:
"As a mom of a 5-year-old boy, I care a lot about the kinds of heroes he discovers. A lot of us are parents and remember what 'Star Wars' meant to us as kids — the power of a Princess Leia or a Padme as characters we could connect to, look up to, and aspire to."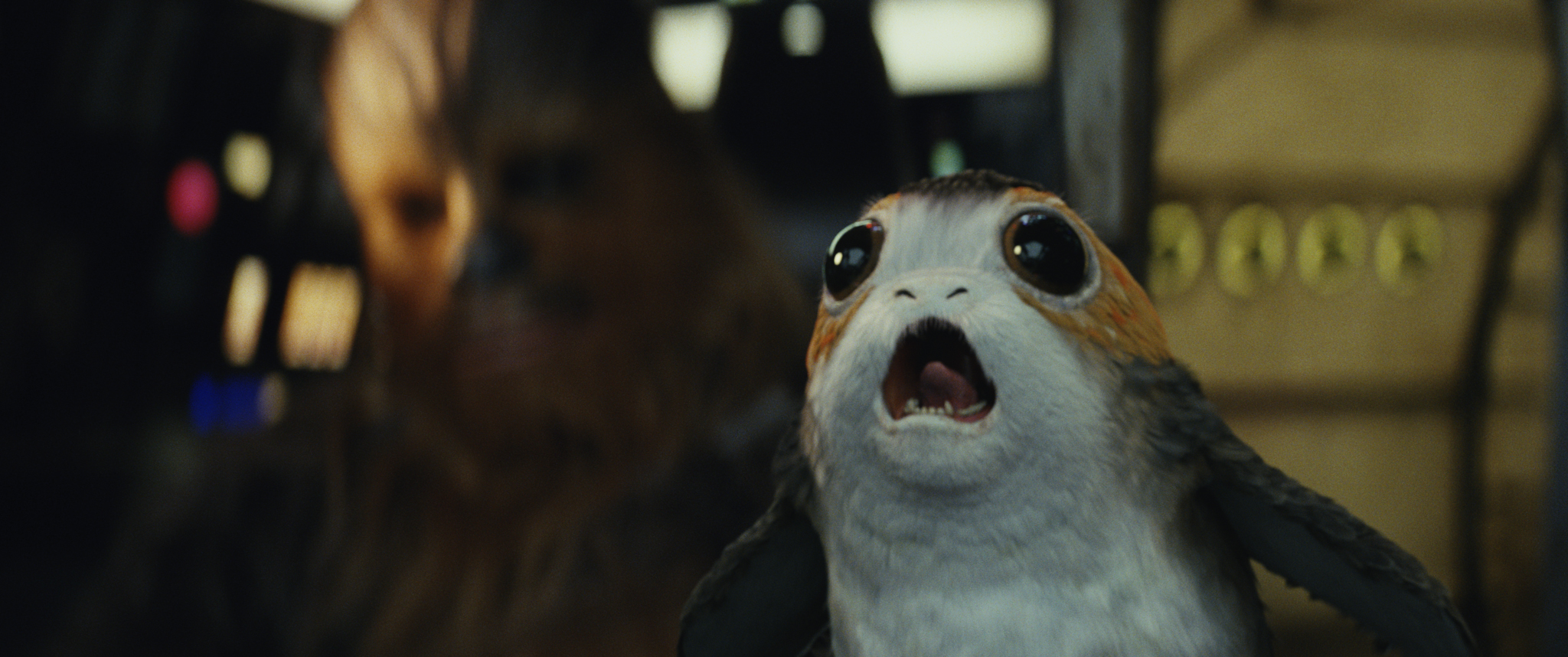 Charmaine Chan
Although you may not know her name, Charmaine Chan is the VFX artist behind the scene that made the internet smile when The Last Jedi trailer dropped.
Jennifer Muro
Writer of the beloved Forces of Destiny animated shorts, Jennifer Muro joined Collider's Jedi Council to talk about the trailer and her passion for Star Wars. She was joined by one of my favorite fangirls, Jennifer Landa.
Tiya Sircar
Last week's Star Wars Rebels premiere centered around the intersecting lives of two women important to the history of Mandalore, Sabine Wren and Bo-Katan Kryze. Tiya Sircar, the voice of Sabine, is a passionate activist on Twitter, which might suggest Dave Filoni cast to type. She joined Fangirls Going Rogue podcast to talk about her mother's influence and how the Forces of Destiny adventure figures deliver on her mother's sensibility for toys appropriate for girls. You can listen to the interview here.
Caroline Robinson Kermel
After a few years of struggling with gender diversity in its writers and on video, StarWars.com appears to be shaking things up, adding more women to Rebels Recon. Associate producer Caroline Robinson Kermel joined Dave Filoni, Henry Gilroy, and Tiya Sircar to talk about the Season Four premiere.