Star Wars Celebration Orlando 2017: The Heroines of Star Wars Panel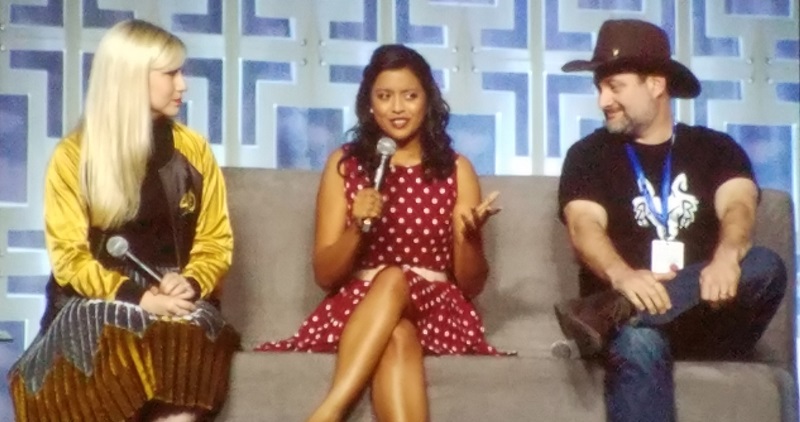 Last weekend's Star Wars Celebration convention featured a number of high-profile panels, including the 40th anniversary of Star Wars, The Last Jedi, Star Wars Rebels, EA's reveals for Battlefront II, and Mark Hamill's tribute to his dear friend Carrie Fisher. Perhaps flying a bit under the radar by comparison, Friday afternoon's panel on "The Heroines of Star Wars" marked one of the highlights of the convention for fans interested in, or concerned about, the future of the female characters in the franchise. While Dave Filoni has spoken previously in other venues about his commitment to their success, this time he brought the message to the biggest stage at Celebration. For the team at FANgirl, the panel not only delighted us with its topic, but also with the cause for optimism it delivered in its content.
"The more characters that Dave and company make, the less we have to talk about any kind of differentiation. … The more Ahsokas and Reys and Sabines and Heras that there are, the less we have to focus on championing this cause. And not just for girls, but for boys, too. The more boys see girls in these powerful, strong positions, the more gender equality will be engrained in their brains."

~ Tiya Sircar
Even before the panel began, attendees realized this one would be different. Preshow entertainers Amanda Wirtz and Dave Griffiths brought onto the stage a mother with her children, and a niece, all dressed as Princess Leia. They then invited fans dressed as female characters to join a massive parade of cosplayers in marching through the aisles of the Galaxy Stage. As the panel was about to begin, the screens ran a sizzle reel of female Star Wars characters that highlighted their heroism, STEM talents, and piloting expertise, among other memorable scenes from film and television. The reel ended with two of their most powerful moments: Ahsoka walking away from her Master and the Jedi Order in The Clone Wars and the Skywalker lightsaber launching into Rey's hand in The Force Awakens.
"I'm also interested in what are kids into now. There's so much more of this graffiti culture, painting culture, artist culture. They love anime. I thought I'd like to embody that in a Mandalorian somehow. … But that character thought was kind of tricky, because a lot of people didn't know if they were going to like it. And I said, no, I think kids are going to like this. It's different and they need different. I'm not designing for kids from 1977. I'm designing for kids now. And they need heroes now, that are going to understand them and support them. That's what Sabine is about."

~ Dave Filoni
First on stage, Dave Filoni joined host Amy Ratcliffe for introductory remarks. He began by noting the tone set by Princess Leia in A New Hope: she was the one in charge, never a damsel in distress. He then emphasized several other important points. First, that interesting stories with great female characters in Star Wars need to include variety, not merely badass ladies. Second, that stories need to include multiple women talking about important topics. And finally, that powerful women in Star Wars appear not only in the fiction, but also on the creative teams: Lucasfilm Story Group executive Carrie Beck had been intended to join Filoni on the panel but was kept away by a family illness.
Each of these notions has been part of the ongoing commentary at FANgirl since its inception. To hear them set the tone for an official Lucasfilm panel at Celebration was a joy.
"When Clone Wars started I heard it all the time: Star Wars was for the men and the boys. We knew that wasn't true. I came to Celebration, San Diego Comic-Con, Disney Star Wars Weekends and it was always 50/50. There were women everywhere. And I thought, we've got to change the stereotype. It starts on the playground when kids play Star Wars. For the longest time there were so many characters for the boys to play and only two characters for the girls to play, Leia and Padmé. And now, thanks to Dave and his team and everyone at Lucasfilm and Disney, there's so many amazing female characters for girls to play. Look at this room. It's 50/50. It's just so beautiful that Star Wars is for everyone."

~ Ashley Eckstein
The panel expanded when Ashley Eckstein and Tiya Sircar joined Filoni. While much of their discussion naturally centered around Ahsoka Tano and Sabine Wren, it also included topics such as fan reactions to characters, the goal of telling stories for today's children, and the importance of diversity in providing role models for all children to see themselves in stories.
Filoni then introduced the new animated project Forces of Destiny, which focuses on telling new short stories with the saga's great heroines. Narrated by Maz Kanata, these "missing scenes" vignettes will include Leia, Padmé, Rey, Jyn, Ahsoka, Sabine, and Hera – as well as some unexpected interactions between them, yet which emerged organically when designing the tales. Aimed at children, each story is a fable with a moral for the audience to learn from. At that point special guest Daisy Ridley arrived to reveal her return to voice Rey in Forces of Destiny, and she expressed her gratitude that her character has connected with fans of all ages.
"I've been admiring how great these figures look. I've also been thinking, when I was a kid when I went to the toy store, none of the toys looked anything like me. I'm looking at [Sabine] and I'm looking at [Ahsoka] and it's so much more inclusive and representative. I wish this was around when I was a little girl."

~ Tiya Sircar
But the Forces of Destiny launch is not limited to the animated shorts: it also includes a toy line, with large-scale 11-inch "adventure figures" from Hasbro. Ratcliffe presented the three actresses with the respective characters – and having never seen them before, their genuine excitement was obvious. Filoni noted that many of today's male storytellers got their start playing with Star Wars action figures as boys, but the gender imbalance in the Original Trilogy assortment was apparent to him even as a child. With Forces of Destiny, more kids will have the kinds of toys that appeal to them to use in imagining their own new Star Wars adventures. The panel made clear that this dynamic is intentional; not only is Star Wars for everyone, but the experience of playing with Star Wars toys as an entry point to imagination, storytelling, and even careers in the entertainment industries is for everyone, too.
"In this conversation about what makes a character great, if you're going to write a female character and you're a guy like me, the first thing you have to do is listen. Stop talking and listen to what these women have to say. And I'll be honest, it's harder than you think because you're not wired that way when you're a little boy. You're told to get after it and do things that you want. But it's more the way of the Jedi, to be honest. You should learn to listen to other people, and be patient and open-minded."

~ Dave Filoni
Filoni concluded the panel by returning to the theme of the strong women behind the scenes. His friend Jen Muro is the writer on Forces of Destiny, its animation lead at Ghostbot is Tatyana Carvin, and many of the crew are women, as well. Filoni's guidance to them was simple: "I want you to make the show you always wanted when you were a little girl. They did, and it's brilliant."
"It's not just something that's about the characters onscreen. It has to become part of the people making the episodes, behind the camera, in every aspect of what we're doing. Lucasfilm is dedicated to that. … We need it in all areas of our creativity, we need the influence, we need the voice. That's what we need."

~ Dave Filoni
---
"The Heroines of Star Wars" begins at 3:38:20 in the below video.
Related Links: