Kay Goes Down a Rabbit Hole with Nerd Lunch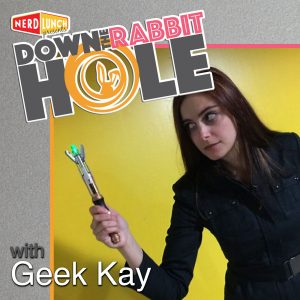 While I've gone Down the Jaxxon Hole with Nerd Lunch for a special Star Wars-themed podcast game, this is my first time guesting on "Down the Rabbit Hole" proper. And let me tell you – this one was definitely more of a challenge.
If you're unfamiliar, "Down the Rabbit Hole"is a Wikipedia-based game + discussion concept paying tribute to all those times you've gone on the site to look something up, get drawn in by clicking on links, and totally lose track of time. Players start by each picking a Wikipedia article. On this episode Carlin Trammel, Jeff Somogyi, Paxton Holley, and I then choose two of those articles as a group to see if we can connect them via linked pages in seven clicks or less.
When it comes to The Thin Man (film), the common cold, bottle caps, and Street Hawk– where do we go? What do we do? What TV show name will we feel compelled to yell out? Tune in and hear for yourself.
Now its own show within the Nerd Lunch podcast feed, you'll find "Down the Rabbit Hole" once a month. Episodes usually come out on Tuesdays, but this one is in honor of host CT's daughter's birthday. Annaliese is a podcaster in her own right and can be heard on Dragonfly Ripple. Happy Birthday, Annaliese! I hope you're entertained.
"Down the Rabbit Hole with Geek Kay" can be found on iTunes, Google Play Music, or embedded below.
Find out about my previous appearances on Nerd Lunch right here on FANgirl or over on Nerd Lunch's spiffy new website.