Claudia Gray Talks Storytelling and Fandom on Fangirls Going Rogue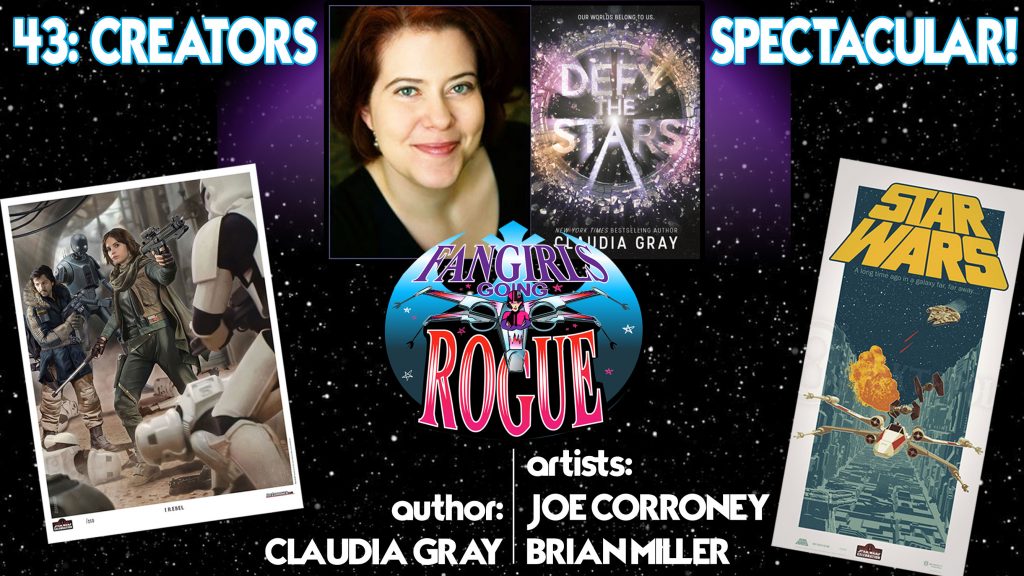 In a special episode Fangirls Going Rogue talk to three highly respected content creators working on the Star Wars franchise: Claudia Gray is a NYT Bestselling novelist who wrote the critically acclaimed Star Wars novels Lost Stars and Bloodine. Her new YA book, Defy The Stars – not Star Wars but you'll still love it – hits book stores on April 4, 2017. She joined Tricia Barr, Teresa Delgado and Sarah Woloski to talk about Star Wars, storytelling, fandom, and of course, her new book. Following on that fun interview, artists Joe Corroney and Brian Miller join the show to talk about their Celebration Art Show pieces "I Rebel" and "Star Wars: 40 Years of the Force."
This is a perfect episode to get in the mood for Celebration! Don't forget our Celebration Podcast Stage appearance will happen Friday from 3PM – 4PM.
As always reviews and rating are our life blood.
Thanks for listening, and until next time: Yub yub!
Related Links
Pre-order Celebration artwork here
Social Media
If you enjoyed the show, leave us a review on your favorite podcatcher and share the episode with friends. Until next time: Yub! Yub!