#CarrieOn with Fangirls Going Rogue at Celebration Podcast Stage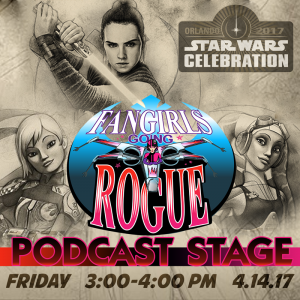 Fan favorite Fangirls Going Rogue returns to the Celebration Podcast Stage for the third time. Join hosts Teresa Delgado, Sarah Woloski, Sandra Choute and Tricia Barr plus special guests on Friday, April 14th at 3PM to celebrate the Star Wars convention of a lifetime! There will be giveaways, including an exclusive button for those in attendance. Check back for more news on this exciting event, and keep on eye on our Events page for more ways to meet. Yub yub!
Don't forget to buy a Fangirls Going Rogue t-shirt and show your pride at Celebration Orlando. They are on sale right now!
Social Media