The Princess Diarist Reviewed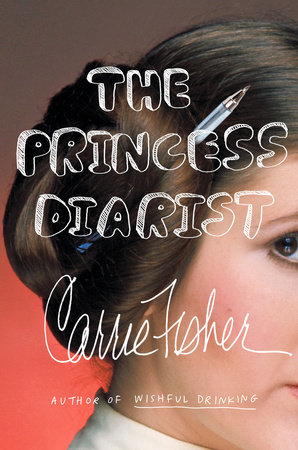 In Carrie Fisher's Wishful Drinking she wrote: "If my life wasn't funny it would just be true, and that is unacceptable." It was a lesson I needed to be reminded of then and again from time to time – find things to laugh at in life. As much as I loved that book, her newest one brings something different to the table.
In The Princess Diarist, Fisher takes charge of an impactful element in her life to tell her story in her own way. Whether she means it to be or not, it can be another really great reminder.
If you come to The Princess Diarist looking for all the behind-the-scenes of how the first Star Wars movie came to be – well, there's a little bit of that. Yes, the impetus of the book was finding journals she kept during filming A New Hope. The diary contents populating the middle of the book aren't thoughts about aliens or spaceships though. They're beautiful and often heartbreaking explorations of the galaxy of feelings she was otherwise keeping locked inside her.
It's easy to tear up just thinking about them again. They make me want to time travel to be there for her so paper wasn't her only refuge. Among other things they are proof that Carrie was a master of words from a young age. And there are so many options of thoughts, situations, and feelings to relate to.
In the lead-in to the diary and the reflection on being Leia forever that follows, there's sprinkles of Fisher's trademark humour. She's still finding the comedy. But there's also the story of a woman who went through and who continues to go through a strange experience so few will ever be able to relate to while simultaneously giving you the feeling that you aren't alone.
I honestly wondered where the book was going in the beginning and if it was going to be more about her current thoughts on that period of her life instead of what she was writing back then. But after an unsure start, everything starts to flow and it all makes sense.
You may have read elsewhere that the book is the reveal of an affair with Harrison Ford. And yes, that is a part of it. But it's not a play by play. It's part of her story, but, as with so many other things, there's way more to The Princess Diarist than that.
The publisher provided FANgirl with a copy of the book for review. The Princess Diarist is out now.