Star Wars Fandom at the Holidays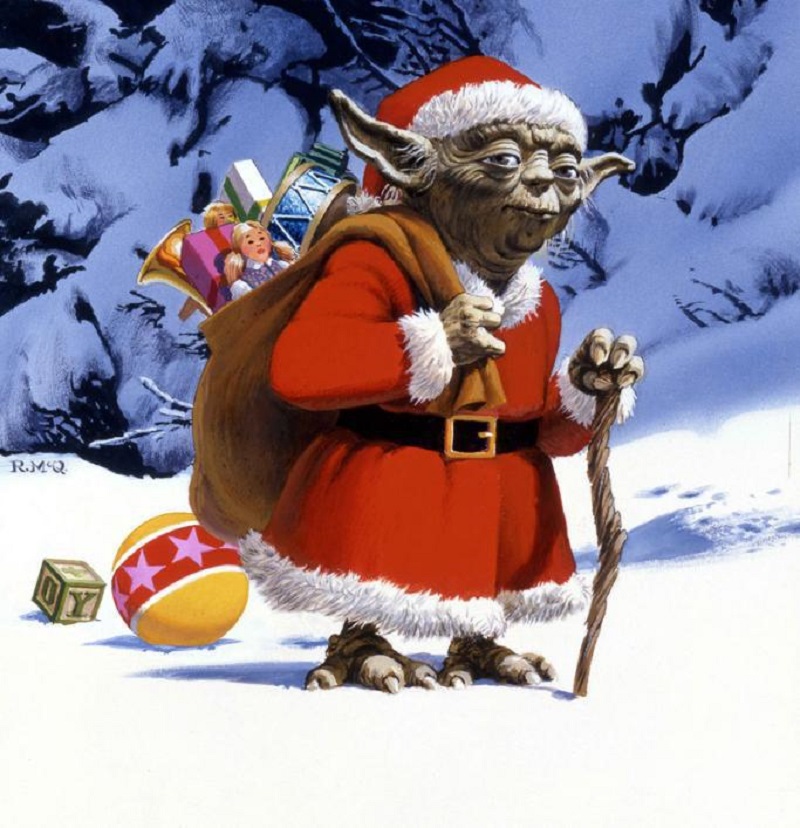 The other day my friend Charlie sent me a picture of his Christmas tree, and it got me thinking about Star Wars holiday traditions people have. I have a black mini tree decked out primarily with Sith Lords, and while it sits in my office year-round, for the holidays it comes into our living room with a Darth Vader and Stormtrooper nutcrackers, sharing the space with our more traditional tree and nutcrackers.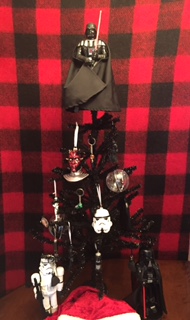 I asked my friends what traditions they have for celebrating Star Wars around the holidays.
I began with Tricia, who said, "I am not a huge holiday celebrator, but I have a yearly holiday tradition that combines my love of Star Wars and Disney. I have a Minnie Mouse holiday hat that I wear to Disney World around the holidays. Each year I get one of the Her Universe holiday pins and put it on the front of my hat for a Star Wars dash of holiday cheer!"
Mary echoed our FANgirl Blog love for Her Universe items: "I usually wear my Her Universe R2-D2 Santa pin in December. Christmas cookies get made with my Artoo measuring cups and spoons set and Star Wars cookie cutters from Williams-Sonoma."
Kay said, "Seeing a Star Wars movie in theaters is becoming one!" She added her one ornament is an X-wing which sits on her cookbooks.
Similarly, Ross shared his one-ornament / holiday-movie tradition as well:
"Regrettably, when it comes to Star Wars I remain the stand out within my family in terms of excitement and fandom. Everyone else enjoys Star Wars when they see it, but their interests generally begin and end at the movie theater. The closest thing we have to a traditional Star Wars celebration this time of year, as a result, involves the theater.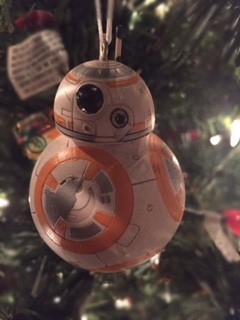 I live a thousand miles away from my family, so I only see them twice a year. I visit once in the summer and once for Christmas. When The Force Awakens came out, I naturally saw it on opening night, but promised, or maybe ordered, my family members to go see it. They decided to wait until I was home and I ended up seeing it twice due to not every family member being free to see it at the same time. Now, with Rogue One's debut, we will be doing the same thing, so by default, seeing the latest Star Wars movie has or will become a thing we do whenever I visit for the holidays. I love taking my family to see it, answering their questions, and of course, seeing something I adore repeatedly. I can't wait for my nephew and nieces to grow old enough to share in the experience.
Back at the homestead, my wife and I have nothing special we do. Though, while at the store last month, my wife spontaneously told me I had to get a BB-8 ornament that was randomly hanging at the end of an aisle. The spherical astromech is now my first official Star Wars tree ornament and perhaps, the first of many to come. Here's the little guy in his Christmas tree glory."
Paul has festive, Fett style traditions. He shares: "I troop the Chuy's Children's Parade as Boba Fett, which is a festive event held around the holidays here in Austin. That aside, I hang the many Star Wars ornaments I have as well as a give a listen to the Star Wars holiday album, Christmas in the Stars, which holds a special place in me and my brother's hearts from years back."
Returning to Charlie: "I've got a ton of Star Wars ornaments. All the Hallmarks since '96. I love picking what'll make the tree every year. I also watch the Original Trio at some point in the season. They've come to feel like holiday movies to me, not summer blockbusters."
Charlie also has the ornament that literally tops them all:
Over to you: How do you celebrate the holidays Star Wars style? Share with us in the comments below!