Star Wars: The Blueprints
Every Star Wars fan has an item out there that they just wish they could have, but they probably never will. So here's mine. (No, my faithful followers, it's not a maquette of Jag Fel's canon-sanctified ass. Not that I'd turn that down.).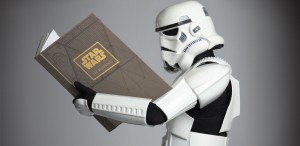 Star Wars: The Blueprints (not to be confused with Star Wars: Blueprints) is a stunning compilation of original blueprints sketched for the production of the Star Wars movies.  Written by J.W. Rinzler, it includes comments from eight-time Oscar winner Dennis Muren, Prequel Trilogy visual effects supervisor John Knoll, and ILM model-maker Lorne Petersen.
Let me tell you why this book is so cool. Hand-drafting is a dying artform. Drafters are meticulous and highly skilled, and they do their work remarkably quickly. With an eye on an engineering major, I studied drafting in high school. I even earned a second in a state contest. When I hired out of engineering school, firms still had a mix of full-time drafters and computer-aided drafting technicians.  For the most part, hand-drafters learned to use computers as the technology got better and better, and these days I know of only one person in my field who can still letter and do linework on mylar or vellum. So this book is a Star Wars enginerd's dream.
Star Wars: The Blueprints gives voice to the groundbreaking and brilliant engineers, designers, and artists that have, in film after film, created the most imaginative and iconic locales in the history of cinema. Melding science and art, these drawings giving birth to fantastic new worlds, ships, and creatures.

~ from www.theblueprintsbook.com
I had the opportunity to preview this book at San Diego Comi-Con. Not only was the book top-notch, but the staff at the booth was attentive, professional, and knowledgeable about the product. In fact, I had to wait behind several fans before me who were also in blueprint-induced awe. When I spoke with the representative. she gave me a business card where she said I could get more information on the book and also purchase it.  The website includes a trailer, a specification sheet, a listing of all plans available, and bios on the contributors.  It's a top-notch sales approach, but it should be: the book is not cheap, at $500, and it has a limited edition run of 5000 copies.
The retail value of this book project comes in at just over $2.5 million. It's obvious EpicInk knows who their target audience is and how to market their product.  Most impressive.
Now, I'll just sneak this little item on my Christmas wishlist…