Fandom Accessory Feature: Star Wars, Disney, & the Walking Dead x Love and Madness
Accessories are an easy way to incorporate your fandom into your everyday outfits. They can be used to bring a small and possibly subtle touch or as part going all out wearing as much of what you love as possible.
One of the companies making fandom accessories is Love and Madness, a woman-owned and -run jewelry and accessory company out of New York. They make independent designs as well as licensed pieces and currently have licenses for Star Wars, Disney, and The Walking Dead. I hear Wonder Woman and Harry Potter are coming up too.
With rings, necklaces, bracelets, hair clips, earrings and even metallic tattoos they offer variety for wearing symbols of your pop culture favorites. Love and Madness sent me pieces from each of the licensing groups available on their website to check out.
The Walking Dead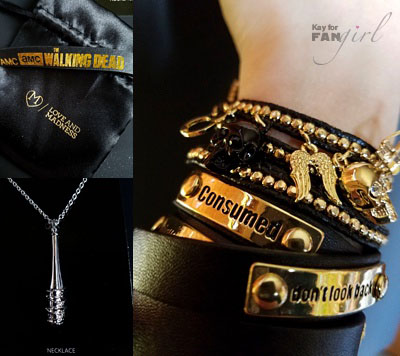 Their Walking Dead jewelry includes two different wrap bracelets, one with dangling charms and the other with words. Both feature cues that will be immediately recognizable to fans of the show. Because they wrap they both offer an easy customized fit. I found the buckle to be bigger than I would have liked on the word-plate wrap but it fits with the take-no-crap style of the bracelet. The "Skulled Out" Charm Bracelet has a nice button and loop closure like you usually find with beaded wraps. You just have to make sure you put it on in the right direction do the charms face up as they're not double-sided.
There's also a Lucille necklace has a decent weight to it and seems not too dangerous to wear for being a spiked baseball bat. Merely looking at it makes me uncomfortable though for no fault of the company's.
Disney
For the Disney pieces two highlights were an Alice in Wonderland-themed necklace and a ring inspired by The Little Mermaid. The Alice necklace is a delicate lariat, which is fun because you can adjust the way the necklace hangs to your liking. With the cut-out heart being the stopper piece, it does a pretty good job of staying once you've adjusted it. It's definitely a subtle piece too.
The Little Mermaid ring is large but not too weighty. My favorite part about this ring is that the design holds several references to the film. The texture looks almost like a tentacle – a reminder of Ursula. The purple pearlized beads harken to Ariel's mermaid attire. And the overall shape is the seashell Ursula keeps Ariel's voice in and wears as Vanessa.
Love and Madness has a certain style hair clip that they offer in both Disney and Star Wars designs. At first I hesitated to try one because hair clips can easily skew childish. These clips have a sort of minimalist feel as they are just the outlines of property-relevant shapes such as Yoda or Mickey Mouse's head. They hold best if you have some texture to or product in your hair as there are no silicone pads to help the clip grip.
Star Wars
Further on the Star Wars front, Love and Madness is not kidding when they say their limited-run doorknocker necklaces are heavy. I got to try out the gold C-3PO necklace and I was afraid to make any sudden moves. It's a good likeness and it's cool to have his whole head on a chain as weird as that sounds. Since it is a 3D object, it doesn't always sit so he's facing forward. So maybe not 100% practical, but with its long chain this necklace is a neat statement piece nonetheless.
Their mix and match Star Wars earrings are solid and about the size of a penny. I tend to prefer more minimal earrings in general but I still enjoyed mixing the earrings to wear the Millennium Falcon going up against a TIE Fighter or a TIE patrolling near the Death Star.
When it came to their metallic Star Wars tattoo sheets it turns out the images are so close to each other that it's a challenge to cut them out, but at the same time this means you get a lot of tattoos for your money! I quickly learned that if you put them on any skin areas that tends to bend, the tattoos can easily crack. Using some of the smaller ones as nail decals worked out really well though.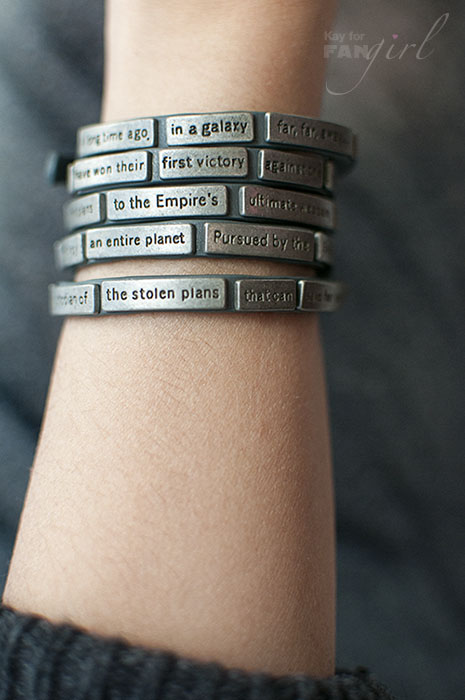 My top pick from all the Love and Madness pieces I checked out is the Crawl Madness A New Hope Wrap Bracelet. It is a fantastic way to carry a bit of a Star Wars story around with you. The different-sized plates for the words make for a cool, textured, quasi-patterned look. It passes the subtle bar too because not only do you need to be close to read it, but it's also more likely your fellow fans will be the ones to recognize the opening crawl of the movie that started it all.
Despite being excited about this leather and metal bracelet back when it was first announced, I originally stopped short of buying it when I saw a friend's had a typo. The good news is the spelling of the word "ultimate" has been fixed and my twitchy-spelling-nerd heart can rest easy.
Love and Madness spent six months developing this 3-foot-long piece so it'd wrap well around any size wrist. It's comfy. It's versatile. And it comes in three different finishes so you can pick your preference.
The Wrap Up
Prices for the items I reviewed range from $6 (hair clips) to $60 (crawl wrap bracelet) and seem fair. Every piece I got to look at was well made, and I like that the company offers stylish items in addition to and beyond a simple charm on a necklace chain. Most items come in a satin drawstring pouch which makes for a nice way to gift and store them.
I'm not sure of the specifics of most of the metals used in the jewelry beyond that several of them appear to be plated, so if you have any metal allergies it's best to email Love and Madness via the address on their site with any questions. You can find Love and Madness jewelry via their website as well as retailers like ThinkGeek, Hot Topic, and Game Stop.
Thank you to Love and Madness for supplying all the fandom fashion accessories for this review. As with anything, I give my honest review of items regardless of how they're sourced.
All images in this post taken by Kay. Please do not repost any of them without permission.