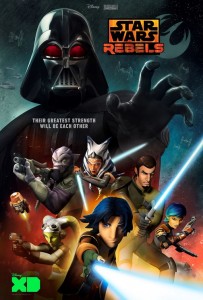 After all the excitement of The Force Awakens to start the year, it's easy to forget how much else is going on in the realm of Star Wars. March brings the second season of Star Wars Rebels to its conclusion, and as always the fate of our heroes is hanging in the balance.
---
The Hero's Journey and The Force Awakens – Building on last month's discussion of Rey's progression through the stages of the Hero's Journey in The Force Awakens, we'll consider additional elements of the mythic structure that appear in the movie's story. Other characters present many of the classic archetypes alongside Rey's journey, and Finn transitions through many of the stages of the monomyth, as well.
---
Music and Storytelling – In this month's episode of Hyperspace Theories, we'll talk about one of our favorite parts of Star Wars: the music by John Williams. Sarah Woloski joins Tricia, B.J., and Kay to share our highlights from the score to The Force Awakens and assess how the music supplements the themes and emotional impact of the story.
---
Star Wars Rebels – Three regular-season episodes and a one-hour finale wrap up the stories in the second season. From the mid-season trailer, we can expect appearances from numerous iconic characters, including Yoda, Darth Maul, Ahsoka, and Darth Vader.
---
Here are a few of the other things we're looking forward to in March:
New Star Wars Comics
Darth Vader #17 – March 2d
Obi-Wan & Anakin – March 9th
Kanan #12 – March 16th
Star Wars #17 – March 23rd
Darth Vader #18 – March 30th
C-3PO (one-shot) – March 30th
New Movies
Zootopia – March 4th
Batman v Superman: Dawn of Justice – March 25th
Television Returning Shows
Once Upon a Time – March 6th (ABC)
Quantico – March 6th (ABC)
Agents of S.H.I.E.L.D. – March 8th (ABC)
Daredevil – March 18th (Netflix)
Latest posts by Administrator
(see all)