The Force Awakens-Inspired Everyday Cosplay: Poe Dameron
Welcome back. Let's continue the countdown to Episode VII with more Everyday Cosplay Inspired by The Force Awakens. Last time we took inspiration from the First Order Stormtroopers. Today we're channeling "the best frickin' pilot in the galaxy," Poe Dameron.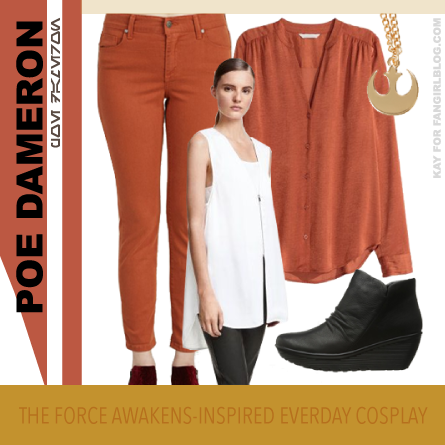 Pants | Blouse | A-line Blouse | Necklace | Boots
As the stormtrooper calls for a lot of white, Poe calls for a lot of orange – or at least the X-wing pilot version of him does. There's not quite so many options when it comes to orange clothes, but looking for apparel labeled "rust" can work too. This semi-casual look includes pieces from ModCloth, H&M, Hot Topic, & Zappos. Wear the blouses together for the full pilot flak vest look or pick one or the other depending on how bold you're feeling in committing to one color. Dameron wears dark boots and while his firebird insignia can be found on his helmet and vest, you can wear yours as a necklace.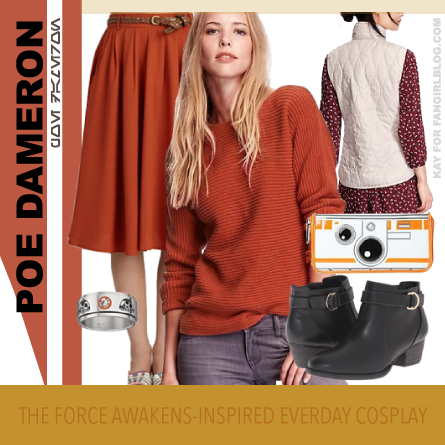 Skirt | BB-8 Ring | Sweater | Vest | BB-8 Bag | Boots
This time we're breaking up all that orange with a texture in the sweater and the quilted vest, both from  Old Navy. This vest is a bit closer to a more literal take on Poe's and a good layering option that could also be used in a Leia on Hoth Everyday Cosplay for those days you want to represent the Original Trilogy. And since it's been made public that BB-8 and Poe have a connection, here's two ays to incorporate the droid into your outfit – one a bit more ninja-style than the other. The BB-8 ring is listed as men's, so if the sizing is too big for any of your fingers, slip the ring on a chain and wear it as a necklace.
Dress | Cardigan | Ring | Sunglasses | Boots
We can't skip dressy Poe Dameron fashion! This dress from ASOS is the brightest of the orange offerings (and on sale for $67.50 as of this posting). Plus the length embodies the jumpsuit. Keep warm with your cardigan; it gets cold out in space. Meanwhile adding these warm-toned aviators keep the pilot theme while also representing the lenses on an X-wing pilot helmet.
The added bonus here is because the basic elements are the same, these can work for Luke Skywalker from the OT as well as the other X-wing pilots of both the original trilogy and The Force Awakens.
If you put together a Poe Dameron-inspired outfit, share it with us in the comments or on Twitter using #StarWarsEveryday.
And stay tuned, there are 4 more The Force Awakens-inspired looks coming.