Fangirls Going Rogue LIVE: Monday December 28th, 2015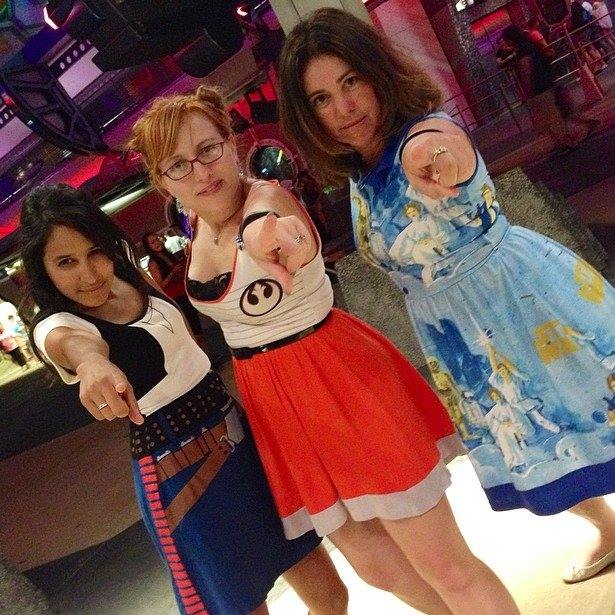 Fangirls Going Rogue ushers in a new era of their podcasting journey with our first live episode this Monday, December 28th, at 8:00 p.m. ET / 7:00 p.m. CT / 5:oo p.m. PT. Learn who won the Verizon virtual reality giveaway for listeners from our last show. Then blast into the new era of Star Wars with our first The Force Awakens discussion together. We have saved our sit-down for listeners. Come listen in to our reactions to the movie. Do we know #WhatsaSnoke? Maybe not, but we will surely #fangirlflail!
Stay tuned to our social media for links to this special episode that will include Steve Glosson from Disney Vault Talk and Richard Woloski from Skywalking Through Neverland. Find the live feed here.
Use our new email contact@fangirlsgoingrogue.com or leave us a voicemail at 331-21 Ewoks (331-213-9657) and we may answer your question live. Check out our new site FangirlsGoingRogue.com; it's under construction so pardon our dust. Subscribe to our new feed on iTunes to continue listening!
Here's our last show, if you need to catch up.
NEW iTunes: http://bit.ly/FGGRiTunes
NEW Stitcher: http://bit.ly/FGGRStitcher
NEW RSS: http://fangirlsgoingrogue.libsyn.com/rss
See our announcement of the new Fangirls Going Rogue website here.
---
Fangirls Going Rogue: @FGGoingRogue
Tricia: @fangirlcantina
Teresa: @icecoldpenguin
Sarah: @JediTink
Facebook: Fangirls Going Rogue
Instagram: @FGGoingRogue
Tumblr: fangirlsgoingrogue.tumblr.com
Instagram: @FGGoingRogue
Voicemail: 331-21 Ewoks or 331-213-9657