Daisy Ridley Roundup: November 24, 2015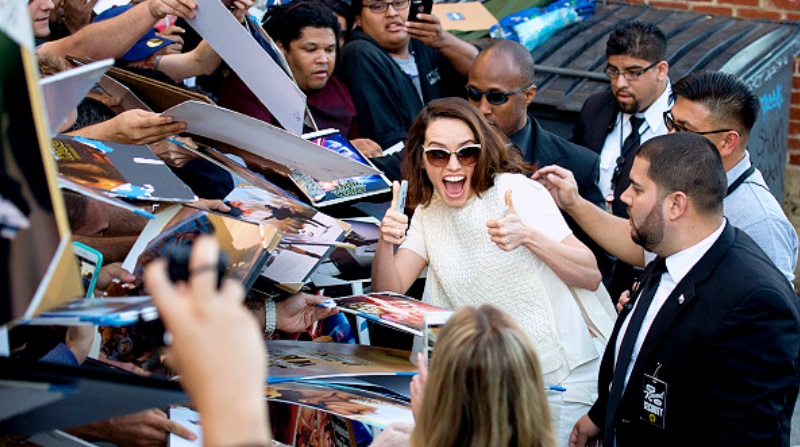 It's only been a week since our last Daisy Ridley Roundup, where the focus was the Girl Power angle of The Force Awakens' roll out. Since then, Lucasfilm has continued to push awareness of the movie into new demographic groups, while keeping existing fans part of the excitement.
Charity of Choice
Harrison Ford brought tears to fans' eyes as he introduced the new Omaze Force For Change challenge, which offers a chance to support causes picked by the movie's cast and crew. He has shed that stand-offish, mad-at-Star-Wars aura and is having fun. Daisy Ridley picked the charity Phab. From their website:
What Phab Does

Phab creates opportunities for children and adults of all abilities to enjoy life together by …

Supporting a network of around 180 clubs throughout England and Wales for all age-ranges, offering activities and holidays which members can share and enjoy together.
Promoting and encouraging self-confidence and independence in young people of all abilities through a range of diverse projects.
Funding special residential breaks – inclusive experiences for disabled and non-disabled children and young people to share in a full range of adventurous outdoor activities at fully accessible activity centres offering specialist tuition.
Providing specially equipped and fully accessible holiday units at an award-winning beach site in Dorset at affordable weekly rates.
Organising national and regional events for Phab club members and supporters to enjoy together and to promote the Phab philosophy of inclusion.
A $100 donation earns you this neat Rey t-shirt and a 1,000 chances to win a trip to meet the cast at the movie's premiere.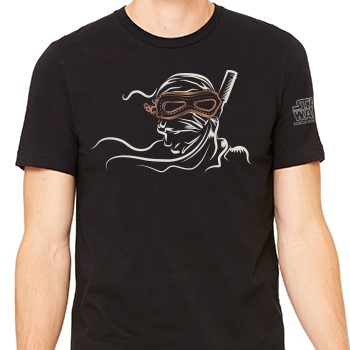 Force-ful Media
Ridley showed up in New York City, posing like a tourist and humming Star Wars music while taking a shot of the Rey banner in Times Square.
Ridley and co-star John Boyega appeared in a Saturday Night Live skit introduced by J.J. Abrams. This is the start of a world-wide tour for the stars, who will appear in Korea on December 9. (via Daisy Ridley Source)
Bloomingdale's display windows in New York City will host Force 4 Fashion looks created by top designers. Here's the Rey and BB-8 window:
The fashion industry initiative's strong push over the last couple weeks was noted in the last roundup, and appears to be captivating at least some young fangirl's imaginations. (via The Wookiee Gunner)
Bloomingdale's has released the three tote bags from The Force Awakens' costume designer Michael Kaplan, who spoke to Elle and gave some insights into Rey's costume.
During this process, I'm aided by an extraordinary team of concept artists and costume makers. Ideas and sketches and rough facsimiles are presented to J.J. or whoever the director is. This was no different with Star Wars and with Daisy's character. Rey is written as a very strong character and it took all the elements that I mentioned earlier, the fact that she's working, doing very hard work in a very hot and dusty climate that might get cold at night. Everything that she's wearing and everything that she's carrying has a reason for being there.

Something I've never said to anybody about the costume is that she wears a head wrap. It's almost like a turban that she has on her head. It's actually a long-sleeve t-shirt that she put over her head and then took the sleeves and wrapped them around. That's the garment that she would carry with her if it got cold at night. Yet, she doesn't want to have to deal with her hair getting all full of sand and dust, so she tied it around her head during the daytime. Everything is dealt with like that.
The head wrap explanation isn't new information, though. Fans were told in line for the Celebration Anaheim The Force Awakens costume exhibit about the head wrap.
Elle has shared a behind the scenes video of Daisy Ridley's photoshoot. The magazine is on stands now. You can also find her in Total Film's January issue, and newly announced on the cover of Empire.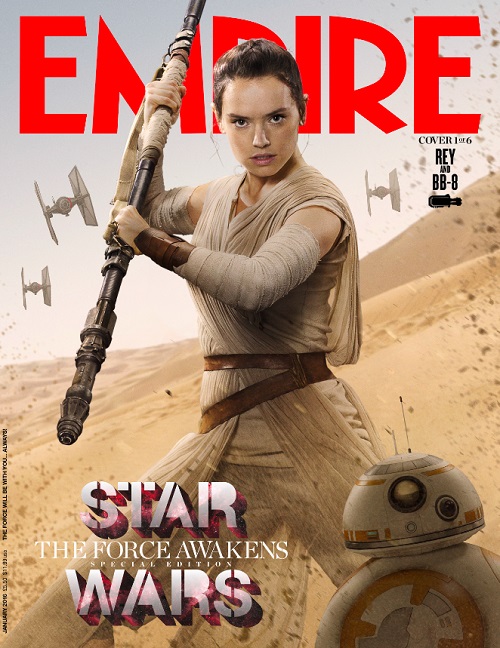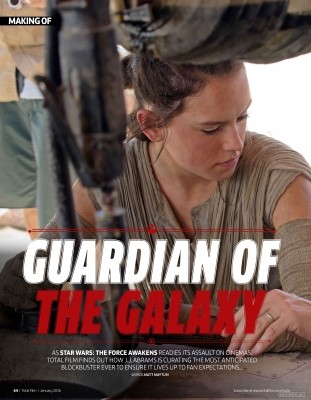 The American Music Awards featured an exclusive clip of Ridley's and Boyega's characters in a flight for their lives. Almost all the footage has been seen in previous trailers and television spots but is stitched together with some interesting dialogue. A new television spot that aired over the weekend also gives more clues into the journey of the lead character.
With Mockingjay Part 2 out of the way, The Force Awakens has the movie-going public's undivided attention. ABC took the opportunity and ran, hosting Abrams, Ford, Carrie Fisher, Ridley, Boyega, and Adam Driver on Jimmy Kimmel Live. Ford and Fisher were not previously announced, but continue the trend of bringing the legendary actors in to mingle with the rising stars of the saga.
https://twitter.com/TK10815/status/668948890251567104/video/1
Overall, the Kimmel special was underwhelming. Kimmel's jokes were sophomoric and bought into gender stereotypes about women and their relationship to film. Carrie Fisher, as usual, was funny. Ridley had a chance to relate learning the news that she had been cast, then having to keep a secret during the back half of a show at a theater.
Around the Web
If you haven't chosen your side on Google, now is your chance. It invites users to pick between hero Rey and villain Kylo Ren.
Plus some of my favorite fanart and cosplay of the week.
Down to 23 days until The Force Awakens! I think this gif sums up my thoughts on that.
Click here to find all our Daisy Ridley Roundups.