Fortune Profiles Kathleen Kennedy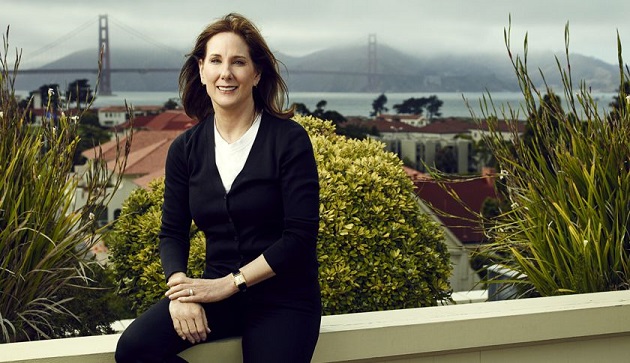 This week Fortune magazine released its 2015 list of Most Powerful Women. Kathleen Kennedy joins the list at #42, in large measure due to guiding Lucasfilm in generating the massive anticipation building for The Force Awakens this December. The lengthy profile accompanying the list highlights the trajectory of Kennedy's career from her first entry into the movie industry to critical decisions made after taking over Lucasfilm as George Lucas' hand-picked successor.
On Hyperspace Theories we've discussed Kennedy' influence on the future of Star Wars. The Fortune article, too, emphasizes that Kennedy's impact on the story, not only the production side, of The Force Awakens also shouldn't be underestimated.
One of her first moves: To rework the plotline for The Force Awakens, she recruited screenwriter Lawrence Kasdan, who co-wrote some of the most-beloved earlier episodes of the space saga. …

Lucasfilm was desperately in need of revitalization. It had become the unchallenged master of CGI, but it seemed to have forgotten how to tell great, original tales. A telling point was that it never had a story department, a group that oversees all aspects of content. So Kennedy created one, bringing in Kiri Hart, a former screenwriter, to build out the group. …

A still more pressing task, though, was to rethink the story line that Lucas had sketched out for the new Star Wars episode. Kennedy, frankly, wasn't thrilled with the plot. Her new bosses at Disney expected the movie to come out in the summer of 2015, but Kennedy held firm that the project would all come to naught without a great story line at its heart. "Every fiber in my being knew what I needed to do to at least get that movie off and running. So that's what I focused on," she says. "A lot of what they were expecting was, in my mind, unrealistic, because nobody making the deals makes movies."

Kennedy quietly began to enlist Abrams—the hot auteur who had made the TV series Lost and the most successful Star Trek movies—as director, along with other filmmaking partners, even before getting approval from Disney. "I just went to them directly, and I made them keep a secret," she says. Then she went to Disney, telling them, "You're going to have to trust me, but I need the following people or you will not have a movie." Her new corporate parent consented.
That kind of influence with Disney's leadership so early in Lucasfilm's tenure under its new owners comes in part from Kennedy's incredible track record as a producer. Undoubtedly, though, her drive and force of will also play a role.
But her thirst for perfection and dogged attention to detail—fun fact: she arrived at one of our interviews with three pages of her own typed-up notes—can be daunting to co-workers. "You never bring a problem to her that you don't already have a solution to," says John Swartz, co-producer of Rogue One, an upcoming Star Wars spin-off movie, and Kennedy's former assistant. Some who know her well but didn't want their names mentioned have called her "intimidating" and "controlling." But mostly, those around Kennedy describe her as an imaginative yet practical multitasker who can get the impossible done—and fast.
The anecdote which ends the article, too, may give some insight into why Kennedy is committed to including more strong female characters in the future of Star Wars.
The skilled water-skier and former quarterback of her seventh-grade football team (yes, a boys' team) is ready for the big leagues—and knows why she's here. "If I could throw the ball farther than any of the guys that they were looking at to be the quarterback," she says, "they wanted me to be the quarterback."

"You know why?" she asks a moment later, her mouth curling into a badass smile. "Because they wanted to win the game."
It's little surprise that like some of Star Wars' iconic characters, Kennedy herself is becoming an inspiration to fans. Last week at Dragon Con in Atlanta, fans celebrated Kathleen Kennedy Day by cosplaying the Lucasfilm president – complete with white blazers and Her Universe lightsaber logo shirts matching her first image-making first appearance on stage at Celebration Anaheim.
[tweet_embed id=639933419695247360]
---
For updates on all things FANgirl follow @FANgirlcantina on Twitter or like FANgirl Zone on Facebook. At times she tries the Tumblr.