Fandom Fashion Friday #4 – Accessories Edition
On our previous Fandom Fashion Friday, we covered new items from Her Universe as well as collector's items and I said next time we'd focus on accessories, so let's do it!
STAR WARS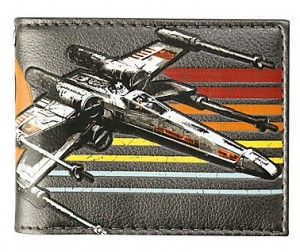 Starting off with some pieces that lean toward the subtle fandom side, only a few people will mistake these for a moon: Death Star Jewelry ($14.99-$29.99 at ThinkGeek) A ring, necklace, and earrings are available in this style, so take your pick.
Or if Rebels are more your thing, there's a Rebel firebird Insignia Ring ($22.50, Hot Topic). Now we just need one in blue for the Resistance.
You can keep your fandom in your pocket or purse as well with wallets whether you support the Empire, wish you flew an X-wing, have a fondness for droids, ($16.50 each at Hot Topic) or are a bounty hunter from Mandalore ($19.99 at SuperheroStuff).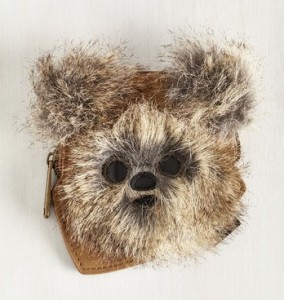 If you need something smaller, check out these next two. This C3P0 faux leather coin purse ($22.99, SuperheroStuff) or Ewok the Walk coin purse ($19.99, ModCloth) would be happy to hold small items for you. Although I don't know if I could handle opening that Ewok's head to store pennies.
If those are too small of a bag, Loungefly's Luke & Leia Poster Art Tote is lined and can be found over at Modern Pinup for $56. There's also a Darth Vader/Dark Side Tattoo Tote that's embossed ($69.50, Hot Topic). The Disney Store has several different design options for messenger bags that can be personalized too ($105). And of course when it comes to Star Wars there are backpacks a-plenty, but here's a neat Stormtrooper repeated pattern backpack ($45, Loungefly).
Let's not forget your legs and feet either. For a bold look, take a look at R2-D2 Faux Thigh-high Tights ($14.50, Hot Topic) and for something a little more stealth you can find Lightsaber Duel Socks ($20, Dorkees).
DC & MARVEL
Hello, functionality – Batman Bottle Opener Ring ($6.50, Hot Topic). Although it's not that surprising that a Batman accessory would also be a tool.
Hot Topic's Harley Quinn Slip-on Shoes ($19.50) let you wear Batman's logo while paying tribute to Ms. Quinzel.
Meanwhile you'll have to take a closer look to see that these shades hold some Amazonian power – Wonder Woman Half-Rim Sunglasses ($12.50, Hot Topic). And if you have some more money to spend, be sure to check out this Wonder Woman Ring with Custom Cut Rubies ($595+, Custom Made). It's one powerful-looking ring.
Carry your comic covers with you in the form of a Marvel Collage Weekender Bag ($59.50, Hot Topic) or Marvel Umbrella ($24.50, Hot Topic).
DOCTOR WHO
Got a best friend or Doctor or Companion or Roman Legionnaire in your life who is a fellow Whovian? Split this TARDIS Best Friends Necklace Set ($14.50, Hot Topic) with them. ThinkGeek also has a cool necklace with a two-sided design that's a bit timey-wimey, TARDIS and Union Jack Antique Key Necklace ($14.99). There's an option for wearing the blue box around your neck another way too – TARDIS Lightweight Scarf ($24.99, ThinkGeek). And we all know bow ties are cool, but have you worn one on your wrist? You can with the Doctor Who Collectors Analog Watch ($48.50, Hot Topic).
That's it for this edition of Fandom Fashion Friday. Tell me what kind of fandom fashion pieces you're looking for in the comments section.
In the mean time, I'll be sharing discoveries as I find them on Twitter with the hashtag #geekfashion. 
---
Kay grew up wanting to be an astronaut. After seeing Star Wars, she wanted to be Princess Leia, Han Solo, and an astronaut. A voice actor, photographer, and artist who also consults in communications and marketing, Kay spends the little bit of free time she has reading, reviewing, and, of course, making pew pew noises. She would pick up more jobs, hobbies, and fitness routines if she was a Time Lord. You can follow her on Twitter.