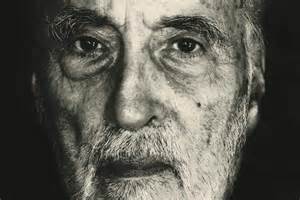 Today it was announced that legendary actor Sir Christopher Lee died on Sunday, June 7, in London after several weeks in the hospital for heart failure and respiratory ailments. The British press provides extensive coverage, as well as the U.S. entertainment media. Although Star Wars fans celebrate his portrayal of Count Dooku in Attack of the Clones and Revenge of the Sith, Lee's body of work spans well over 200 films over six decades. He memorably faced off with Peter Cushing's Van Helsing as Dracula in Horror of Dracula (1958) and with Sir Roger Moore's James Bond as Scaramanga in The Man With the Golden Gun (1974), among many other amazing career highlights. Newer generations of audiences recognize him from five Tim Burton films and the evil wizard Saruman in six Peter Jackson movies based on Lord of the Rings and The Hobbit, or perhaps even the heavy metal albums he released. Tributes from friends and colleagues include numerous incredible anecdotes about him. To pick just one: he was the only member of the cast of Lord of the Rings to have met J.R.R. Tolkein.
Earlier today George Lucas released the following statement:
"Christopher was a great British actor of the old school. A true link to cinema's past and a real gentleman. We will miss him."
Lucasfilm president Kathleen Kennedy also remarked:
"Christopher brought a grace and gravitas to the many roles he's played over a rich and expansive career. His performance as Count Dooku in Episodes II and III remains a highlight of the Star Wars saga, and we have been so privileged and honored to count him among our family. Christopher was a gentle soul and deeply adored by fans, and we will miss him dearly."
What many of his fans may not know is that Lee was also a war hero, having served during World War II. He told The Telegraph in a 2011 interview:
"That is real horror and blood. When the Second World War finished I was 23 and already I had seen enough horror to last me a lifetime. I'd seen dreadful, dreadful things, without saying a word. So seeing horror depicted on film doesn't affect me much." …

"I was attached to the SAS from time to time but we are forbidden – former, present, or future – to discuss any specific operations. … Let's just say I was in Special Forces and leave it at that. People can read into that what they like."
Sir Christopher Lee was 93 years old.
---
For updates on all things FANgirl follow @FANgirlcantina on Twitter or like FANgirl Zone on Facebook. At times she tries the Tumblr.