The Hunger Games: Mockingjay Part 1: A Review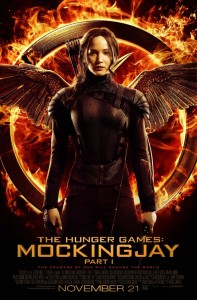 The thing about Mockingjay Part 1 is it isn't a movie that can stand on its own. You'd probably never watch just this one and not any of the other films in the series. And you can't watch this one without thinking of the others either. Mockingjay Part 1 moves at a strolling pace and, when compared to the previous two Hunger Games movies, it seems downright slow. The benefit of this is that there is time for the story to be more true to the source material than the other films and plot points are explained pretty well. The downside, at least for me, was it gives you plenty of time to think about missteps.
Whether splitting the final book into two movies was the right choice is debatable. For the commercial end, it was a no-brainer. For storytelling though, it didn't seem quite necessary. Some people suggested one three-hour movie instead. We'll have to wait and see if the Hunger Games team put enough into Part 2 to make that call for sure.
Mockingjay Part 1 has a lot of things going for it. The entire cast does a wonderful job. The music is a beautiful supporting player. And it's a thought-provoking look at media's role in a war and the extent that propaganda can play. We also get to see that fighting doesn't come easy for everyone and that being in a situation like the Second Quarter Quell can take its toll. Finnick Odair (Sam Claflin) and Katniss Everdeen (Jennifer Lawrence) are a mess, but they still push through to take each day as it comes. In fact, it continues to be refreshing to see someone many agree to be a strong female character be out of her depth, struggle, and react. Katniss is not a leader and that's okay.
So while this movie follows the book fairly closely, there are still some changes and additions. Former Capitol escort Effie Trinket (Elizabeth Banks) replaces Katniss' prep team as a reluctant supporter and fashion consultant. This works to a point. It's interesting to see Effie as the fish out of water for a change and Banks nicely balances Effie's eccentricities with the movie's serious tones, but once they decide Katniss doesn't need to be made up, Effie's just mainly following people around in fabulous takes on a gray jumpsuit. A few scenes show us what fighting and military actions are happening that Katniss isn't a part of and while these were fairly intense and interesting, sometimes it muddies the waters. The main offender was the footage shown in opposition to Finnick's propo-speech, which made it impossible to fully grasp the onslaught of information suddenly coming through. Most of the other added scenes give new and further insight into specific characters like District 13's President Coin, the Capitol's President Snow, Katniss' friend Gale, and propaganda promoter Plutarch Heavensbee. The original story is told from Katniss' point of view only.
Without giving away anything that we should be seeing in Part 2, some of these changes made me concerned certain characters and situations weren't played up enough or properly positioned for what comes next. Actually it's hard to say much about this movie without its other half and the larger context. I wonder if filming the movie all as one had any effect on Part 1 not being distinct enough on its own. The filmmakers don't even fully take advantage of the opportunity for a searing cliffhanger despite the fade to black that appears exactly where it could have been. Instead they bring you to the top of the cliff, pause, and then walk a couple feet down the mountain for five more minutes.
At the end of the day, The Hunger Games: Mockingjay Part 1 is fine. It's well made, interesting enough to watch, and fills its role as the setup to a finale. Maybe this is because I've read the book so many times, but it just wasn't engaging, exciting, or moving enough to make me want to watch it again and again. Instead I'll wait another year and see what comes next, listening to Yellow Flicker Beat on repeat.
The Hunger Games: Mockingjay Part 1 was part of my Top Ten Movies to See in 2014 aka Only Grand Captain Mockingjays of Future Tomorrow.
---
Kay grew up wanting to be an astronaut. After seeing Star Wars, she wanted to be Princess Leia, Han Solo, and an astronaut. Life's taken her on a bit of a different path for now, but she's still a Star Wars fangirl at heart who enjoys surprising people with how geeky she really is. A voice actor, photographer, and artist who also consults in communications and marketing, Kay spends the little bit of free time she has reading, dancing around, writing, learning and, of course, making pew pew noises. You can follow her on Twitter.