REVIEW: Star Wars Rebels: Ezra's Gamble
Guest review by Skylar
[FANgirl Note: Skylar, our intrepid junior contributor, is back with book reviews. Linda follows up with Mom input.]
Skylar:
Ezra Bridger is a fourteen-year-old vagabond with a knack for pickpocketing and love for adventure. When we meet him, he is earning money by selling tickets for a top-secret gladiator match to wealthy people visiting the Outer Rim planet Lothal. Just like his boss, a Xexto named Ferpil Wallaway, Ezra always manages to snatch a few valuables from his victims as well.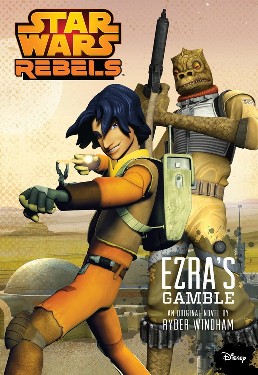 The only catch is that Ezra gets his money after he pays the mysterious "Commissioner." Everyone avoids the strict Stormtroopers and corrupt officials who run the government.
Meanwhile, Bossk, a Trandoshan bounty hunter, has come to Lothal to track Gronson Takkaro, a Dug criminal wanted for not paying debts. As he brings his freighter to the port, he is connected to the Imperial Starfleet. A man named Lieutenant Herdringer insists that only Imperial troops can take care of the problem. Bossk is insistent on his rights as a bounty hunter and the Lieutenant finally allows him to go track the thug.
When Bossk touches down, Ezra is curious about the freighter. Bossk notices Ezra and reluctantly allows Ezra to be his guide to Ake's Tavern, where Gronson has been spotted. But as they will soon find out that this was much more either bargained for…
Ezra's Gamble is a great book! This book is one of my favorite Star Wars books so far. It is exciting, full of adventure, comedy, and plot twists. I like how Mr. Windham uses a familiar character like Bossk who is in the Clone Wars and the movies, while introducing the new character, Ezra, from Rebels.
The setting on Lothal is interesting, too. Obi-Wan was wrong – Lothal has way more scum and villainy than Tatooine! I would say this book is an easy read for fifth grade and up. The humor, action and plot twists kept me focused on suspense every page.
One thing I noticed is that there were few female characters. The only females mentioned were a party of four Twi'leks, an alien who walked by in a shimmerscarf, a friend of Ezra leaving the planet, and a female announcer. There were no main female characters. Although it didn't take away from the book, I wish it had at least one strong woman. Overall, this book was a fantastic read. I can't wait for more Rebels books to read!
Linda:
When Ezra's Gamble arrived from Amazon and immediately disappeared with Skylar to her room for several hours, I knew that we had found a potential hit. We are already Ryder Windham fans, owning books he has written from I Want To Be A Jedi, The Complete Vader, Jedi vs. Sith, all of the Nuru Kungurama series as well as Dark Horse's Strange Allies.
Ezra's Gamble is for ages 8-12 and grade level 3-7. Even so, as an adult, I was entertained. Windham's writing style is impeccable. The main characters are likable and evoke emotional reactions. You want Ezra to succeed and the bad guy to be caught. The action is described viscerally and well paced, with each chapter ending with a page turning cliffhanger. I also enjoyed how what is known about Ezra from Rebels is cleverly woven into the story or foreshadowed.
Like Skylar, I was also disappointed by the dearth of female characters, especially as Rebels is supposed to have a broader appeal. I know from Windham's previous books, he generally writes them well.
Overall, this a well written and solidly entertaining book. I would recommend it to any young Star Wars fans as well as their parents.
---
Linda has been a Star Wars fan from the time she saw Episode IV in the theatre with her parents and insisted on being Han Solo while playing with the neighborhood kids. She's now a fangirl who splits her time learning to twirl a bo staff like Ray Park, jumping horses, writing fanfic she dreams up on her commute to work, and spending time with her husband and their own feisty Padawan version of Ahsoka. She can be reached at Linda.HansenRaj@gmail.com and on Twitter.