Fangirl Chat 17: An Oral History of Fandom with Maggie Nowakowska
If you haven't checked out Star Wars Insider #151, it's now available at newsstands and bookstores. I have fielded some questions about where to find it in the magazine racks. In most stores, Star Wars Insider is stocked in the Entertainment (Film, Television, Genre) section. You can also find this issue in the July Nerd Block and order it from Titan directly. There are two collectible covers – one with Jeffrey Brown's fabulous artwork and the second with Hera from Star Wars Rebels.
In issue #151 you'll find an interview with award-winning author Jeffrey Brown (Vader's Little Princess; Goodnight, Darth Vader), a new short story from Alexander Freed with art from Joe Corroney, an article on geek couture written by Lisa Granshaw, an interview with Vanessa Marshall – the voice of Hera Syndulla in Star Wars Rebels – and an article written by me about how fangirls have been an important part of the Star Wars franchise since 1977. This article was based on an interview I did for part of an oral history project started for Fangirl Chat.  After meeting Maggie Nowakowska at last year's GeekGirlCon, I wanted to make sure her memories of fandom in the pre-internet age weren't lost. What was it like to be Star Wars fans before message boards? Definitely different, but when you hear some of the people she has met and things she had a chance to participate in, you might be wishing for a time machine to take you back to the good old days.
Thanks to Teresa Delgado for formatting the video!
You can find the ladies of Fangirl Chat as follows: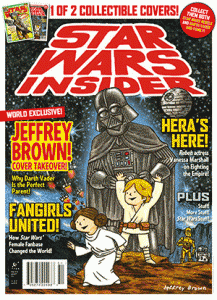 Twitter:
Fangirls Going Rogue: @FGGoingRogue
Tricia: @fangirlcantina
Teresa: @icecoldpenguin
Email: fangirlsgoingrogue@gmail.com
Facebook: Fangirls Going Rogue
Tumblr: fangirlsgoingrogue.tumblr.com
Instagram: @FGGoingRogue