Today is Free Comic Book Day. You can find participating stores on the event website.
What is Free Comic Book Day? Well, check out the video before you run off to the store.
Some of the interesting ones this year are Guardians of the Galaxy, Hello Kitty, All Rocket Raccoon, Defend Comics, Duel Identity, Les Miserables, and Steam Wars.
While you're at the store, I'd suggest picking up Star Wars: Legacy, Ms. Marvel and/or Captain Marvel. Captain Marvel was my latest read. I struggle at times with the comic book format but Captain Marvel read intuitively and the characters were so sharp, vibrant, and relatable that I was disappointed when I hit the last page and knew I'd have to wait for more.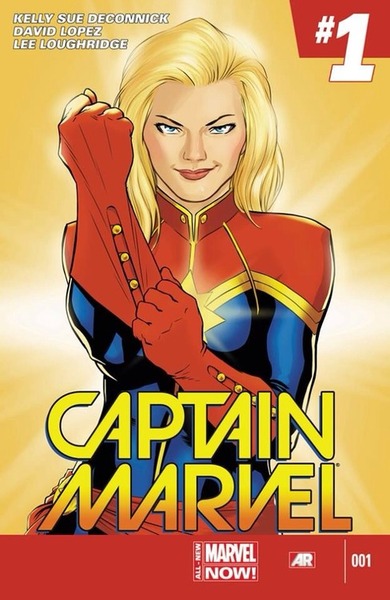 Kay and I chat a bit on Twitter about finding superhero shirts, so I was excited to discover We Love Fine has Carol Corps apparel that ties into Captain Marvel. If you're not familiar with Carol Corps, the community of fans was covered recently on Wired.
Jennifer first discovered Captain Marvel with the new series. Her curiosity was piqued by news of the character's transition and redesign. "One issue in, I was like, 'This is my superhero. This is the character I wish I'd had when I was 12,'" she says. "I went back and read every Ms. Marvel that had been published and absolutely fell in love with this flawed, real character I could identify with."

It's a story you hear again and again in the fan community. Jennifer's friend Ari, who's here in an art nouveau gown inspired by artist Hanie Mohd's homage to the McKelvie costume, stopped reading comics as a teenager, discouraged by the fact that she wasn't represented "or even acknowledged" their pages. But then DePrey told her about Captain Marvel, and she got sucked back in. I ask her whether the community has changed since her return to superhero comics, and she looks around, grinning: "It's so different than when I was younger. It's amazing to have my girls with me."

In the larger and significantly male-dominated climate of superhero fandom, the Carol Corps is a notable exception. The majority of the 300 fans milling around the museum are female; in fact, the Corps' central rallying points—crafting and cosplay—are both more traditionally feminine areas of fandom.

"Two years ago, anything that was seen as focused toward women automatically got kind of shunned and not enough attention," says Kristina Rogers, who is exhibits director of Emerald City ComiCon, and one of the organizers of the Carol Corps celebration. "And now we can say, 'we're doing this Carol Corps celebration,' and everyone's super enthusiastic about it. We've gotten e-mails: 'Can you have HeroesCon do this? Can you have New York [ComiCon] do this? Can this happen in Florida?' It's astonishing."
---
For updates on all things FANgirl follow @FANgirlcantina on Twitter or like FANgirl Zone on Facebook. At times she tries the Tumblr.