Kay Reviews The Grand Budapest Hotel
The Grand Budapest Hotel: A Review by Kay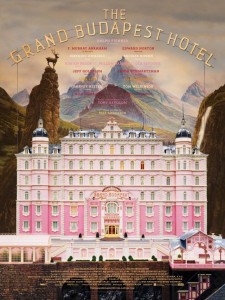 Through a majority of watching The Grand Budapest Hotel I had a silly grin on my face. The rest of the time my jaw hung in awe or I was grimacing. It was a quirky, fun, storybook of a ride. Ralph Fiennes is so engaging as hotel concierge M. Gustave, it's easy to just float right through the film at the brisk pace he seems to set.
As usual Wes Anderson does a lovely job of creating a sense of time and place that feels based in reality yet totally made-up. Certain scenes are even lit like you're watching a scene from a play. And yet there are moments of violence that serve as pinpoints of stark contrast to the magical lilt of the film.
The only element I had trouble understanding the necessity of was the 4-layer narration. The film begins with a girl visiting a monument celebrating an author before opening up a book of The Grand Budapest Hotel. Then we shift to the author recording an intro to the book before sliding over to the author as a younger man meeting the elder former lobby boy, Zero Moustafa, in the hotel and as Zero tells his story we move into the pre-war hotel setting where most of the movie takes place. The end the movie slides back out to each of those times and levels. The last two layers are plentiful enough on their own.
Despite the large cast, the focus was pretty tight, making it less of an ensemble piece than other Wes Anderson films like The Life Aquatic with Steve Zissou or The Royal Tenenbaums. And while it'd be nice to see more females in the cast, the gender of the characters didn't seem all that important as the what really stood out was the richness of variance in the characters. Together they all work like a symphony.
The Grand Budapest Hotel was part of my Top Ten Movies to See in 2014 aka Only Grand Captain Mockingjays of Future Tomorrow. Up this Friday is Captain America: The Winter Soldier.
---
Kay grew up wanting to be an astronaut. After seeing Star Wars, she wanted to be Princess Leia, Han Solo, and an astronaut. Life's taken her on a bit of a different path for now, but she's still a Star Wars fangirl at heart who enjoys surprising people with how geeky she really is. Currently a photographer who also specializes in communications and marketing, Kay spends her free time reading, cooking, writing, learning and, of course, making pew pew noises. You can follow her on Twitter.