Join the Rebellion at Star Wars Weekends 2014
At the end of a week marked by the rest of the announcements of the crew of the Ghost, the heroes of the upcoming Star Wars Rebels television series, Disney Parks Blog shared some exciting news about this summer's Star Wars Weekends at Hollywood Studios in Florida.
With Rebels on the horizon, it's no surprise that the theme of this year's festivities is Join the Rebellion. To recruit more rebels to the cause, a fifth weekend has been added to the traditional four-week schedule. The Star Wars Weekends special events, including appearances by Star Wars VIPs, take place on Fridays, Saturdays, and Sundays from May 16 through June 15.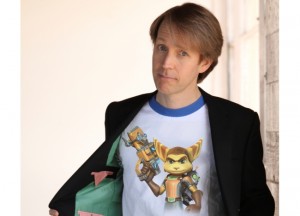 In addition, Disney confirmed that beloved voice actor James Arnold Taylor will be returning as the celebrity host of Star Wars Weekends. With his usual infectious enthusiasm, James tweeted that "This will be the best SWW ever!" Hopefully this means the "Obi-Wan and Beyond" stage show will be back, as well; it's always one of the highlights of the weekend.
Disney also revealed that "a new evening experience" will conclude each day of Star Wars Weekends, including a fireworks display. Inside the Magic reports that the fireworks are expected to mirror the "Symphony in the Stars" display, set to music from the Star Wars films, previously used at the May the Fourth event in 2013 and Star Wars Celebration V's Last Tour to Endor in 2010. Inside the Magic also indicates their confirmation that the Hyperspace Hoopla dance party won't be back this year. Although it's had its fun moments, the music and dancing (particularly the moves assigned to Slave Leia and Midriff Padmé) have been noticeably more risqué recently. The switch to a fireworks display is likely to be a much more family-friendly way to end the day, as well as offering a more celebratory and less satirical take on the franchise.
Finally, Disney shared the poster for this year's event. We're big X-wing fans here at FANgirl Blog, so we have to agree with James that "this is the coolest SWW poster yet."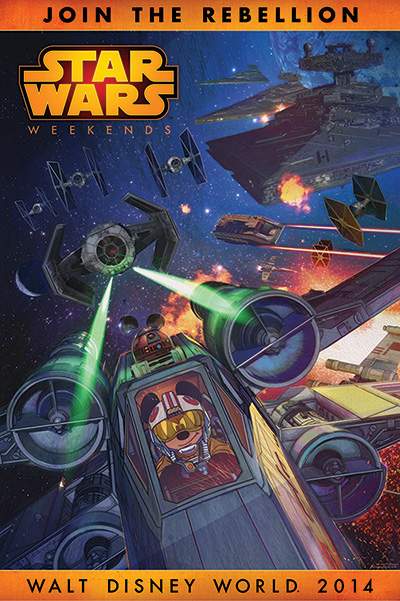 Once again this summer we'll be sure to report the highlights from the weekends on the blog. In the meantime, you can revisit our Star Wars Weekends coverage from the last three years.
---
B.J. Priester is editor of FANgirl Blog and contributes reviews and posts on a range of topics. A longtime Star Wars fandom collaborator with Tricia, he edited her novel Wynde and is collaborating with her on several future projects set in that original universe. He is a law professor in Florida and a proud geek dad.