Star Wars VIPs Share Stories and Sage Advice
Over the holidays, some Star Wars VIPs have launched new books.
Voice actor James Arnold Taylor shares his inspirational wisdom in JAT 365: 365 Inspirations for the Pursuit of Your Dreams. Taylor is known for his cheery outlook made famous in his one-man show. There might be no better testimonial for how his uplifting tale can keep a person on the right track than my own novel Wynde, just out yesterday. The following tweet was sent after I saw his show at Disney's Star Wars Weekends.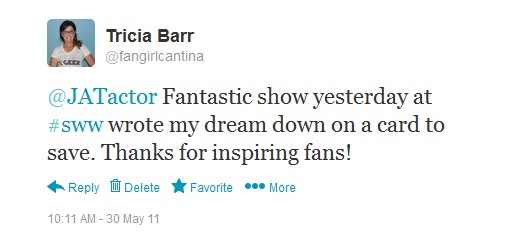 The dream on my card was my novel. Each opportunity I've had to listen to James, it seems to set that fire back in the belly to reach for the stars.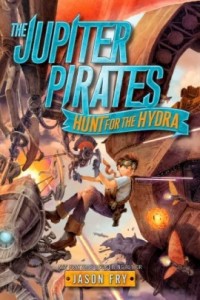 ---
Author Jason Fry's new middle grade novel The Jupiter Pirates: The Hunt for the Hydra dropped last week. There is a snappy AI minding the ship and some really neat world-building, which Fry talks about over at John Scalzi's blog.
The Jupiter Pirates: Hunt for the Hydra: Amazon | Barnes & Noble | Indiebound | Powell's
Visit the official site, or download an excerpt. Jason's site is here. Follow him on Twitter.
Luckily, I've got some middle graders to test this one out. So look for a fankid review soon. It's a fun read, even for an adult.
---
The Athena's Daughters Kickstarter is still going strong. So well, in fact, that the stretch goal for the companion anthology Apollo's Daughters has been reached, which includes contributions from several Star Wars authors known for creating some compelling female characters. From the Kickstarter Page:
We've passed the $24,000 stretch goal, and that mean's we're producing a companion volume to Athena's Daughters titled Apollo's Daughters. This anthology features stories with female protagonists by some of the best male science fiction and fantasy authors in the business. We're really excited about the line-up of authors for this anthology. Aaron Allston, David Mack, John Jackson Miller, Michael A. Stackpole, Jim Bernheimer, Jamie Chambers, Ron Garner, Elias Pate, Aaron Rosenberg, Christopher Ruz, Neal Shaffer, Brian Shaw, Jon Skovron, Alan Smale, Jason Young, and Bryan Young have all signed on for the project. When we reach the $31,000 stretch goal, artist Joe Corroney will create an original art cover of the anthology, and Brian Miller of Hi-Fi Color Design will provide the color. You can get Athena's Daughters bundled with the eBook or eBook and trade paperback of Apollo's Daughters at the $10, $45, and $60 levels, or add it on to your existing reward level by adding $5 (eBook) or $20 (eBook and trade paper back) to your pledge.

The introduction to this anthology will be by Dr. John Mather, winner of the 2006 Nobel Prize for Physics for his work in confirming the Big Bang theory and NASA's Senior Project Scientist on the James Webb Space Telescope.
---
Tricia has completed her first novel, Wynde – a military science fiction with a fantastical twist that features heroines Vespa and Gemini. For excerpts and tales of her adventures in creating a fictional universe, hop over to TriciaBarr.com.
For updates on all things FANgirl follow @FANgirlcantina on Twitter or like FANgirl Zone on Facebook. At times she tries the Tumblr.