REVIEW: Star Wars: Thumb Doodles
Guest review by Skylar
[FANgirl Note: Skylar, our intrepid junior contributor, is back with book reviews. Linda follows up with Mom input.]
First of all, thank you to Dan Letchworth at Klutz for sending me this Klutz book, Star Wars:Thumb Doodles: The Epic Saga at Your Fingertips, to review!
Overall, I like the book. It was fun and easy to do, and liked the idea of using your fingers to create a Star Wars masterpiece!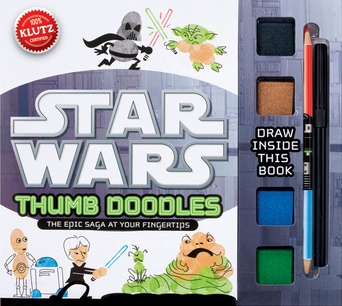 The book has tons of characters to choose from, including the classics, like Luke, Leia, and Han. There are bounty hunters, like Bossk, Dengar, 4-LOM, and other favorite cantina characters. You can also draw droids, AT-AT walkers, Podracers, Ewoks, and banthas just to name a few.
My favorite character to thumb doodle is Chewbacca because he's so easy. Three brown thumbprints draw his face, limbs, and weapons with the black marker provided. I loved all the choices you have to thumb doodle.
That's another nice thing about the book – it comes with all the supplies you need. There are four ink pad colors to choose from, including green, brown, blue, and black. You also receive a red/blue colored pencil to draw lightsabers and a black marker to create most of the drawings. Although it may sound complicated to do a thumb doodle, it really isn't. Step-by-step directions help you create the perfect character.
My only complaint with the book is that the black marker isn't the best, and I ended up throwing it away less than halfway through the book. Fortunately, my mom had extras.
Overall, I really enjoyed this book, and recommend it to everybody, no matter what age. It's very simple and easy, but some of my most creative Star Wars drawings came out of this book!
Rating: 9 out of 10 stars = delicious ollalaberry pie a la mode!
Mom Notes: Klutz books in general are some of my favorite gifts to give kids. They stimulate creativity and are well written so kids can end with a sense of accomplishment. This book took a few practice sheets to figure out how to use the ink pads to get the basic shapes for characters, such as using full or partial fingerprints and the right amount of pressure to use. I would also keep a set of baby wipes around to keep the pads clean and make clean up easy. The black pen did need to be replaced surprisingly quickly. This book is perfect for entertaining kids on a rainy day or long road trip. ~Linda
---
Linda has been a Star Wars fan from the time she saw Episode IV in the theatre with her parents and insisted on being Han Solo while playing with the neighborhood kids. She's now a fangirl who splits her time learning to twirl a bo staff like Ray Park, jumping horses, writing fanfic she dreams up on her commute to work, and spending time with her husband and their own feisty Padawan version of Ahsoka. She can be reached at Linda.HansenRaj@gmail.com and on Twitter.