The Jedi Who Knew Too Much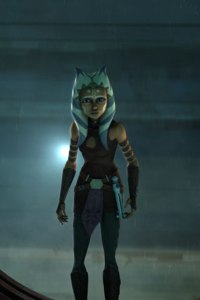 Undoubtedly, this weekend's episode of The Clone Wars was one of the pivotal moments in the television show's history. "The Jedi Who Knew Too Much" features phenomenal storytelling by Charles Murray and detailed and passionate acting by Matt Lanter and Ashley Eckstein. More importantly, it is the first time in Star Wars history that I felt a female protagonist's story managed the complicated characterization nuances that made Anakin Skywalker the most hated villain down the timeline that you couldn't help but root for in the Prequel Trilogy. I don't think Ahsoka will fall to the dark side, but we can see events conspire against her and how her strengths could be her weaknesses, if she lets them. Dave Filoni and George Lucas have created another Star Wars character that everyone can be invested in, within a story where most of the fandom wondered at the start how it could build character development toward events already so well known.
Embedded in this episode heavy with action and suspense was a simple scene that showed two young women supporting one another as friends and peers. Charles Murray has two daughters who love Ahsoka. Moments like these for young women are rare and priceless. FANgirl's The Clone Wars reviewer Megan Crouse has advocated for scenes like this in Star Wars storytelling. After twenty-seven reviews, I can tell when an episode inspired Megan, and I'm sure this moment helped. Megan says:
The favorite moment I mentioned is when she goes from sounding doubtful around Anakin and copying his angry attitude toward Tarkin to reassuring Barriss and telling her to trust in the Jedi way instead of giving in to emotion.  When Barriss compliments Ahsoka's belief, Ahsoka says, "I guess I fooled you like I have everyone else." That line, and the way she realistically had different attitudes depending on to whom she was talking, hung over the entire rest of the episode. Even as Ahsoka ran from the clones and held her own against an entire platoon, she is also doing it all out of desperation. It shows that someone can be strong and worried at the same time.
For her complete review, click here.