REVIEW: Star Wars: The Clone Wars: A War on Two Fronts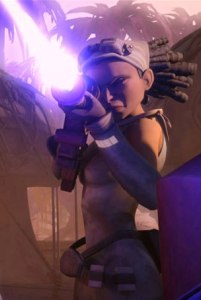 From Megan Crouse's latest The Clone Wars review:
"A War on Two Fronts" begins with the question of whether Jedi should use fear as an asset and moves into the story of a fledgling rebellion on Onderon, starting a new arc unconnected to last week's Darth Maul story.
The Council scene is brief but thematically important, and gives some background for the Jedi that is missing for the rebels. Anakin thinks that arming a rebel group as a new weapon against the Seperatists could be "great.", Yoda, for whom "war does not make one great," is skeptical. He's outvoted, though, and the Council sends the brash Knight, along with Ahsoka, to Onderon. Obi-Wan going along only serves to mollify Yoda slightly. This question of Jedi possibly "funding terrorists," or doing bad things to win the war, is central to The Clone Wars. It's nice to see this theme reinforced here. Even though this is a multi-part arc, the Jedi's moral high ground is brought up again toward the end of the episode, and worked as a nice, if brief, framing device.
Read Megan's full review for more about the characters and themes featured in the first episode of the new arc.