After a busy couple of months, October is shaping up to be a little more sedate. But there's still plenty on tap for the blog.
---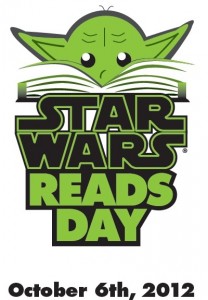 Star Wars Reads Day – The month kicks off on Saturday, October 6th, with the nationwide Star Wars reading celebration. Several FANgirl correspondents are planning to attend their local events, and we'll put together a report on our experiences.
---
Reviews – With Season Five of The Clone Wars underway, Megan continues her great reviews of each week's episode. Also look for a review from Lex on the first arc of the Dawn of the Jedi comics by John Ostrander and Jan Duursema.
---
More Interviews – Several interviews from Celebration VI look to be ready to share this month, so keep your eyes out for them.
---
Here are a few of the other things we're looking forward to in October:
New Star Wars Books
Star Wars Art: Illustration – October 1st

The Essential Reader's Companion – October 2nd
New Star Wars Comics
Darth Maul: Death Sentence #4 (of 4) – October 17th
Agent of the Empire: Iron Eclipse (TPB) – October 24th
New Movies
Taken 2 – October 5th
Argo – October 12th
Cloud Atlas – October 26th
Television Returning Shows & Premieres
Supernatural – Wednesday, October 3rd at 9:00 p.m. (CW)
Arrow – Wednesday, October 10th at 8:00 p.m. (CW)
Nashville – Wednesday, October 10th at 10:00 p.m. (ABC)
The Vampire Diaries – Thursday, October 11th at 8:00 p.m. (CW)
Beauty and the Beast – Thursday, October 11th at 9:00 p.m. (CW)
Covert Affairs – Tuesday, October 16th at 10:00 p.m. (USA)
New Releases on DVD
Cinderella – October 2nd
The Princess Bride (25th Anniversary Edition) – October 2nd
Prometheus – October 9th
Abraham Lincoln: Vampire Hunter – October 23rd
Star Wars: The Clone Wars – October 23rd