Fangirls Around the Web: October 20, 2012
Fangirls and heroines spotted around the internet in mid-October.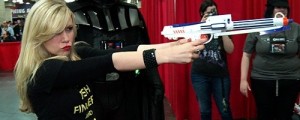 Ashley Eckstein was a busy woman at NYCC, reporting for MTV Geek. I particularly liked her video about the 501st's Shoot a Trooper charity fundraiser. A New York Times feature on NYCC highlights Her Universe, Ashley's company that outfits female fans. The voice of Ahsoka Tano also visited the ForceCast this week, discussing her character, The Clone Wars Season Five, and Halloween.
"You have to promise to have me on after the finale of Season Five. I want to chat with you."
~ Ashley to Jason and Jimmy Mac
In May, Colonel Jeannie Flynn Leavitt became the first female commander of a combat fighter wing. She entered the Air Force in 1992 and a year later she was the first woman to take advantage of the lifting of the restriction on women flying in combat. Vice presidential debate moderator Martha Raddatz interviewed Leavitt about her experiences, and it was featured in an article over at the Huffington Post. I'm a bit partial to fictional stories about women fighter pilots, so this article about a real life heroine who flies was a real treat.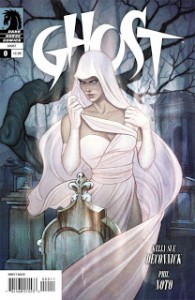 Another real life heroine is Malala Yousufzai, who blogs about the importance of eduction for girls in her country. Last week, Taliban gunmen singled her out and shot her in the head in front of other young women on their way to school. After being moved to Queen Elizabeth's hospital, she has been able to stand with assistance and communicate. Our prayers continue to be with this brave young girl.
Blogger and reviewer extraordinaire Kai Charles at Fictional State of Mind highlighted female characters and female comics creators. A fan of Dark Horse for their "variety of Star Wars comics" and "a variety of kick ass female characters like Buffy," she recommends their revamp of the fascinating character Ghost.
Brenda Chapman writes about being the first woman hired into the Disney Animation story department, where she worked on The Little Mermaid and Beauty and the Beast. The Brave director left Pixar earlier this year to work on a undisclosed project for Lucasfilm Animation.
Looking back, I can see now that my inherent "femaleness" may have had an effect on my work and the work of those around me. I think by just having my presence in the room, and because we had such a mutual respect for each other, the men were more aware of what might be condescending, or to put it bluntly, "sexist" toward women in their work. Or… as I assumed at the time, it could have just been that they were all just really nice guys who had open minds. Who knows? Whatever the reason, we all seemed to work together trying to move the Disney fairy tale into a more contemporary point of view for the heroines – and the audience.
---
Tricia Barr took her understanding of brand management and marketing, mixed it with a love of genre storytelling, and added a dash of social media flare to create FANgirl Blog, where she discusses Star Wars, fandom, and strong female characters. She also writes about Star Wars for Random House's science fiction and fantasy blog Suvudu.com and for Star Wars Insider magazine.
In her spare time, Tricia puts the finishing touches on her first novel, Wynde. For excerpts and tales of her adventures in creating a fictional universe, hop over to TriciaBarr.com.
For updates on all things FANgirl follow @FANgirlcantina on Twitter or like FANgirl Zone on Facebook.