X-Wings Approaching: Mercy Kill on Tuesday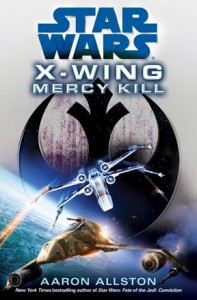 The much-anticipated release of X-Wing: Mercy Kill finally arrives on Tuesday. Ever since I had the chance to read it in preparation for my interview with Aaron Allston for Star Wars Insider #135, I've been on the edge of my seat waiting for everyone else to be able to read it too – and for all the fan reactions to pour in and fun discussions to begin.
Yesterday Pete Morrison at Lightsaber Rattling posted his spoiler-free review. He picked out some of my favorite moments and characters from the book, too.
As I see additional reviews, I'll link them here, too. And be sure to check back Tuesday morning for Kay's spoiler review.
Updates
Friday (Aug. 3): This week's Fifty Page Fridays at Suvudu features the first five chapters of Mercy Kill. Aaron also shares some perspective on writing the book, comparing it to attending "your first family reunion in 13 years."
This afternoon, Aaron Goins posted a minor-spoilers review at Star Wars Report.
Previously, Bry Dean posted a spoiler-free review at Knights Archive.