Zombies Take Over The Clone Wars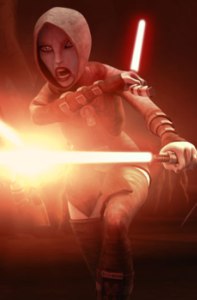 This past week's episode of The Clone Wars, "Massacre," truly turned up the fantastical element, reminding fans that Star Wars was envisioned as a space opera and not necessarily a work of pure science fiction. While I'd shared my excitement about the inclusion of witches and other monsters since last year, I hadn't really imagined the possibility of zombies when I wrote up my Magic of Star Wars post for Suvudu last week. As soon as I saw those pods hanging in the Dathomiri forest on Friday night, though, my mind started churning – "Vampires or zombies?" I liked a lot of things about this episode, including the zombies, but as Megan points out in her review for "Massacre," the four-part arc format can leave viewers unable to judge each individual episode on its own merit.
A few other thoughts on The Clone Wars for the day:
So far this season we've seen major character development for Obi-Wan, Anakin, and Rex, and on a smaller scale characterization growth for Ahsoka, Jar Jar, Padmé, and now Asajj. As a fan of Buffy the Vampire Slayer, I noted some similarities to the character Faith come into play for the former Sith assassin.
The pair of droids episodes earlier this season were met with mixed fan reaction. Obvious direct homages could be found in those episodes to The Wizard of Oz and also to Willow, which definitely have a different take on magic. Looking back now, it's interesting to consider how those episodes might have deliberately set up parts of the mystique of the magic we're now seeing come into play with the Nightsisters, Mother Talzin, and even Darth Maul's resurrection. In her review, Megan points out Talzin's new take on Glinda's glittery hovering orb, and I wonder if perhaps Orphne isn't meant to give fans some insight into the new character Daka introduced this week. (Be sure to check out Dave Filoni's discussion of Orphne in response to a fan question.)
Some notable fangirls are getting to participate in this four-part arc. The mohawked Nightsister Luce was voiced by Jaime King (Hart of Dixie), and Clare Grant (Team Unicorn) announced on her blog that she will be voicing a character in this week's upcoming episode featuring more bounty hunters.
---
A few other notes, too:
GeekGirlCon sent out a reminder today that the submission deadline for panel ideas is March 15th.
The Kickstarter campaign for Wonder Women! The Untold Story of American Superheroines has met its funding goals, but that doesn't mean they wouldn't be happy for more support.
As part of my research for my upcoming novel Wynde, I went to see Act of Valor – this week's surprising box office champ – and think this is definitely a movie worth the price of admission.