Buns, Boobies, and Blasters: Star Wars at Geek Girl Con
As a dedicated Star Wars fangirl, I'm always up for a good panel on the Galaxy Far, Far Away, especially if it involves the Expanded Universe. So I had a special interest in one offering at Geek Girl Con. 
Boobies and Blasters: The Women of Star Wars
Panelists delve into the Star Wars canon to examine the portrayal of female characters. Are they more than princesses and dancing girls? How are the villainesses of the Star Wars Expanded Universe changing the perception of women for a new generation of fans?
Panelists: Mercedes Santaella-Lam(moderator), Misty Buxton, Deunan Berkeley, Sarah Silverman, Amy Sjoberg
The panel consisted of four local cosplayers, some dressed in their beautifully crafted outfits, and an R2 builder. They had been inspired by the Cracked.com commentary "Why Star Wars is Secretly Terrifying for Women" to sit down and talk about their experiences and what they loved about this franchise.

All the women on the panel were engaging and obviously excited to share what they found intriguing as fans.  They talked about how friendly everyone can be, and their sense of community as cosplayers.  As a longtime member of the fan community, I have to say I haven't met a costumer who isn't nice, or who doesn't want to lend a helping hand.  They pass out business cards, offer assistance and support, and happily pose for pictures. But I can also say that this shared camaraderie and fellowship hasn't always been the norm in other subsets of the fandom, including some fans involved in the literature and fictional realms of Star Wars.
I want to commend these ladies for braving the first Geek Girl Con, for some their first convention panel, and sharing their enthusiasm as fans.  They did a good job of representing Star Wars, especially those who cosplay.  My sister, a longtime online friend, and I walked away smiling and appreciative of the discussion.  For folks in the audience who might not already have been big Star Wars fans, watching this panel would have shown them that our fan community is one they could really enjoy becoming a part of.
I'm also always looking for ways to improve, and so I thought I'd share a few thoughts in hopes that going into its second year, Geek Girl Con has feedback to help steer them to even greater heights.
When I originally read the description for the panel, what struck me was that the discussion topic's primary sentence seemed to break down the "portrayal of female characters" into two categories: "princesses and dancing girls" and "villainesses."  The word "heroines" was not used, and although Princess Leia is obviously a heroic figure, I took the connotation of the description to imply that "princesses" was a second derogatory label as paired with the demeaning "dancing girls." But I knew that blurbs often try to create interest with the way they're written, so I decided to a wait and see how the panel progressed.
In their opening remarks, the panelists each noted their characters of interest: Imperial spymaster Ysanne Isard, an Imperial biker scout, a Mandolorian mercenary, Aurra Sing, Asajj Ventress, and an unnamed Jedi Knight.  Princess Leia received a brief mention for her iconic Slave Leia image. Padmé was dismissed in passing by one panelist because she could not relate to the character's choices about Anakin in Attack of the Clones.  It's a real weakness in Lucas' Prequel Trilogy that several vivid moments of Padmé's heroism were lost on the cutting room floor; it's also my opinion the EU could and should be utilized to correct that impression. (Alas, that's a blog discussion for another day.)
Overall, I felt that the panel spent a lot of time focusing on the villains they found cool to dress up as.  To be fair, The Clone Wars was mentioned as having female characters – Luminara, Jocasta Nu, and Ahsoka Tano specifically – with exciting potential for cosplay.  Speaking at San Diego Comic Con, Dave Filoni said that he had considered designing characters for more potential female cosplay – a point that was punctuated by the arrival of Team Unicorn dressed as Nightsisters.  I've discussed recently how The Clone Wars has opened up more opportunities for female characters in Star Wars, and Santaella-Lam's statement during the panel seems like a resounding seconding of that opinion:
"Clone Wars is a great place to see females at their best."
When questions were opened up to the audience, the panel was asked about female characters to look for in the EU, including where to start with heroic figures.  Answers ranged from Aurra Sing, who is a bounty hunter featured mainly in the Republic comics, Mara Jade Skywalker and pretty much anything written by Timothy Zahn, Karen Traviss' books, The Old Republic MMO, and the Jedi Apprentice series.   I raised my hand and interjected the Legacy comics, which are about as balanced in their portrayal of diverse characters as I've found anywhere in Star Wars. After my interjection, Jedi Knight Aayla Secura – also created by the Legacy comics team of John Ostrander and Jan Duursema – was mentioned by a panelist.
From where I was sitting in the audience, the panel didn't really deliver on their prospectus.  This was a cosplay panel, not a discussion of the portrayal of female characters in the movies and the EU, which I think some in the audience were hoping to hear based on the panel description and the general nature of the convention.  Considering that Star Wars costumes outnumbered every other type of franchise at Geek Girl Con, discussing cosplay was very much relevant to the convention.  Maybe next time there could be one panel on cosplay and another on the characters and stories.
As a female fan, it would have been interesting to hear the women talk about the reasons why female villains are captivating their cosplay imaginations right now.  Is it because they want to be bad girls? Are the outfits just that much cooler? Or is the portrayal of female heroines (or lack of) making it hard for women to want to identify with them?  Lumping "princesses" together with the sexist trope of "dancing girl" sets a tone that perhaps the Leia and Padmé costumes aren't worthy of or iconic enough for cosplay. That implication may have been unintentional, but I see it as a reflection of a sentiment that exists in the fandom. Dismissing princesses (or queens or senators) as unheroic is, in my opinion, dangerous; I similarly reject the ridiculous notion that true feminists can't like pink because supposedly it's a color that binds women to their gender.  I certainly respect the right of any woman who wants to cosplay a villain, or who likes the portrayal of Karen Traviss' female characters, even though I prefer to identify with heroines and don't think Traviss did a particularly good job where the Jedi women of Star Wars were concerned.  I'd hope, too, to see that same respect extended back in return, as I'm sure it would be by the ladies on the panel.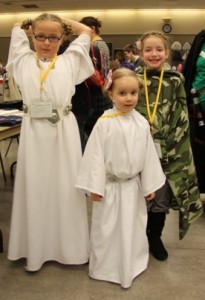 My real concern about undervaluing the princesses, though, is about the little girls in the audience that day. The fairy tale lives of princesses may be something that we look upon differently with life experience, but the dreams and aspirations young women (and even adult women) take away from whatever princess tale inspired them are just as important as what mythic heroes such as Luke Skywalker or Superman give to their fans.  Princess Leia and Queen Amidala don't inspire us because they are royalty, but for what they do as heroines.  Nowhere was this more evident than the young lady sitting at the back of the room as a special guest of the convention – Katie the Star Wars Girl, who happened to cosplay Princess Leia and Senator (former Queen) Padmé at the convention.  After her daughter was bullied by boys for liking Star Wars, Katie's mother blogged about the incident – and what followed was the rally cry of the franchise and fans who denounced the "boys only" mentality Katie had faced.  For me, one of the highlights of Geek Girl Con was watching Katie lead a troupe of little Leia cosplayers against adults in Imperial costumes.  My two-year-old niece and my friend's three-year-old daughter watched on, and we saw them inspired to stand up to the bad guys, too.
I actually do understand the appeal as an adult to slip into a different persona, to imagine myself as someone bigger and badder, who might just do and say the things we'd all like to tell the butthead who cut us off in traffic or that obnoxious neighbor or a demanding client.  Kids, on the other hand, often need the stability of seeing the world in black and white, to understand that there are champions who will fight for them (as the Star Wars fandom did for Katie), to have heroines, and to believe they can be heroines too.  Even if it's unintentional from the adults, kids notice biases against their favorite characters, even princesses.
The apathy for the female characters of the EU, though, I can certainly appreciate.  Two of my biggest criticisms of the handling of the Star Wars EU have been the lack of balance in providing heroic female leads who grab the attention of and inspire women, and the failure of the Star Wars books and comics teams to reach out into their prospective female audience. It was obvious from the question asked about where to look in the books and comics for heroines that women don't know where to start – or if there even is a start.  In large part, that comes from a failure to produce a genuinely iconic heroines in the EU beyond Mara Jade.  The foundation was laid for Jaina, Tahiri, Marasiah, and other female characters, but they've almost always been treated as secondary, if not flat out undermined. And Mara, she's just dead. While Star Wars literature has been willing to write lots of male-centric arcs, even books where the entire Dramatis Personae and the portrayal of the galaxy is completely skewed toward a men-only club, they haven't been willing to stretch the other way and show balance. I'll discuss this in an upcoming blog, but the signals sent to the female fans turn them around before they ever get started. Word of mouth is a powerful tool that has spiraled many books to enormous success, but Star Wars books haven't given the female fans very much to talk about.
Although the increased enthusiasm and presence from the Star Wars Books team is stepping in the right direction, I still think they're going to need to reach a hand further toward the potential and disenfranchised pool of women readers.  For one, that requires creating content women will enjoy and can discuss at events like Geek Girl Con.  We're literally in an almost year-long rut of books and comics dominated by male characters, and a lot of them aren't even the heroes of the Star Wars saga but rather the Sith villains. (And perhaps there is a sort of feedback loop in play here?) Secondly, the Powers That Be will have to connect directly with the female audience.  Numerous Star Wars VIPs have taken it upon themselves to reach out to me to open lines of dialogue, which speaks volumes about how invested they are in changing things for the better on behalf of women.  Hopefully Jennifer Heddle will pencil in the first weekend of October and make a run up the West Coast with Bonnie Burton to share in the second annual Geek Girl Con experience.
As I suggested above, maybe next year we'll see two Star Wars panels at the convention – one about cosplay and one about some awesome female heroines in the Star Wars EU.  I hope to be participating in some way – either to help organize or sitting in the audience – for both.
---
In addition to blogging about heroines and all things storytelling, I am working on my first original fiction novel. The title and teaser trailer for my book will be posted on Thanksgiving, here and at my author website TriciaBarr.com.