Geek Girl Con Saturday Roundup
It was a day of firsts: the first ever Geek Girl Con, my sister's and niece's first convention, my first time with a press pass, and most importantly the first punctuation point of many to come that redefine the power of geek girls.
9:15 – We headed out from the MarQueen Hotel and walked the four blocks to the Seattle Center. Once inside, it took a few minutes to orient ourselves – we also ran into some fellow convention-goers – and in no time we had discovered the line. One of my longtime friends from the Star Wars community and her daughter were already in line. I ran in to get my press pass, then went back and got a chance to talk to some people in line.
10:00 – The badge line moved a little slow and my sister didn't have her pass in hand until right at the top of the hour, so we had to hustle over to the JBL Theater, about a five minute walk to the other side of the Seattle Center, to catch Star Trek & Beyond with Chase Masterson.  She was a wonderful and inspiring speaker.  Chase defines the notion of creating your own opportunities. I can't wait to share more about this panel next week.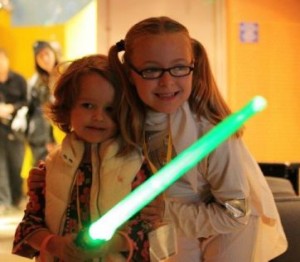 10:55 – Met Katie the Star Wars Girl; she posed with her lightsaber.  It was inspiring to see her at Geek Girl Con.
11:00 – You can't have a geek-related con without talking Star Wars. Boobies & Blasters: The Women of Star Wars started out heavily focused on costuming, but then a member of the audience asked a question about where to read about more great female characters in Star Wars. Mara got a shout out, as did the X-wing books (although the panelists were more interested in Ysanne Isard, the villain, than the other great female characters – Inyri, Mirax, Iella, Erisi, Rhysati, Winter, and Tyria – who populate the series).  Interestingly, Aaron Allston, author of the later X-wing series books, and Timothy Zahn were speaking at Star Wars Fan Days today, too.
I raised my hand to mention the Legacy comics. The potential for cosplay and the nice balance of diversity in those comics has appealed to many female fans. More on this panel in the next week or so.
12:00 – Lunch!  This was a good time to catch up with friends and let our youngest convention-goers become new friends.
1:00 – Up the Space Needle. The view was fantastic with an uncharacteristically sunny Seattle day for October.  (Or so I was told by the locals.)
2:30 – The History of the Universe as Told by Wonder Woman is an upcoming documentary by Kristy Guevara-Flanagan. We got to preview her work-in-progress.  I can't tell you how incredibly brave Kristy was to show the rough cuts; as a writer I couldn't imagine showing my WIP.  This is going to be a fabulous documentary when it's done, and mandatory viewing for anyone creating comics, television shows, books, or movies.  It explains from a very personal point of view why Wonder Woman is so important to women, and why we need superheroes as much as the men. 
4:05 – The placing of the panels at opposite ends of the Seattle Center meant anyone going from the Wonder Woman panel back to the Northwest Rooms had to run.  The room for the Character Studies: Geek Girls in Popular Culture was packed by the time I got there, and more people flowed in behind me. (I got sidetracked taking pictures with some clonetroopers!)  I was pleasantly surprised by how many men were seated in this panel (and seen at the con generally, for that matter).  This panel had a great discussion about geekiness becoming popular.  Some people seem to embrace the mainstreaming; others  want to resist it.  More on the great discussion from this panel in the next couple weeks, for sure.
My favorite moment of that panel was the panelists singing the theme song from Star Trek: Enterprise. 
5:45 – Dinner at The Melting Pot. 
7:45 – Dancing in the room with my sister and niece.  We held hairbrush microphones and grooved to ABBA's Dancing Queen.  Sorry, MarQueen guests if we were too loud.
---
A graduate of Duke University, Tricia is a registered Professional Engineer who designs transportation systems as a consultant. In her free time, she shows horses and maintains a website for Star Wars EU fans that creates a safe place for women and men to discuss literature and all things pertaining to geek culture. She is currently writing her first full-length original novel, a space opera based around the heroic journey of a young woman who finds herself in the middle of a deadly terrorist attack by an invading alien force.  For information on the book, please check out TriciaBarr.com.
For more FANgirl featured news about the fandom and other fun stuff, check out the Fangirl Zone on Facebook, follow @fangirlcantina on Twitter, or drop by the Lomin Ale Cantina featuring the Fangirl Zone, a fangirl-friendly message boards dedicated to discussion of all things Star Wars.