The darkness was eternal, all-powerful, unchangeable.

She stared into it, unblinking and unafraid. She was determined that it would not claim her.  She had resisted it these many years.  She would resist it forever, never despairing.

It was unchangeable, but change would take place. The Force said so.

 ~ opening epigraph of Fate of the Jedi: Outcast
When the next book in a series is about to be released, I like to look back at what's come before in the tale so it's fresh in my memory. Fate of the Jedi: Outcast might have become one of my all-time favorites; it's got a lot of great things going for it.  For one, it opened with Jaina and Jag in a conference room (I don't need to explain the significance of that one to J/J fans) after one of the coolest Star Destroyer stunts ever that didn't involve blowing something up. Top that off with one of the most impressive double entendres ever spoken in Star Wars, followed by some intriguing developments within the Galactic Alliance and the Jedi Order and I started out hooked. Imperials are running the show (and Luke Skywalker just figuring that out), barvy Jedi, and an unofficial all-star covert ops team called Darkmeld combined to spark classic Star Wars mayhem, perilous but fun.
"You're not fooling anyone, Fel. You're planning for an Imperial invasion of Alliance space."

~Jedi Knight Jaina Solo to Imperial Head of State Jagged Fel, Outcast
As I reread parts of the various Fate of the Jedi books, though, I couldn't help sighing a bit in dismay. Somewhere it went so wrong and I stopped buying books with my favorite characters in them.  Outcast became the equivalent of a restaurant display that makes your mouth water, but when the real deal arrives it proves to be not so appetizing. For one, the books stopped being space-opera romps, instead dragging characters kicking and screaming into the shadows where many fans can't quite recognize them. For another, no one seems to be able to put a finger on where the series intends on going with its storylines.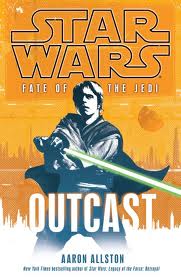 Nothing highlights this more than the opening salvo of the series. One might think it would have been included to hint at the overarching journey and themes, but after six books there has been little or no movement in exploring who "she" is.  Considering we had nearly thirty books focused on the rise and fall of Jacen Solo, the hint that this series might highlight one or more female characters gave some fans, particularly the women, a new hope. Unfortunately, the flames of anticipation have been woefully underfueled since the first book, and strong currents of unrest have blown much of the passionate fire out of the post-RotJ era fans who once looked forward to the next book in a series.
Like any good story, the flagship series should raise many questions, provide us with clues toward more than one option, and help us formulate answers for ourselves as readers.  Most fans like reading book series for this reason – whether it's Star Wars or Harry Potter or The Hunger Games – because they give us a thread to follow on a broader journey.  Looking back, the New Jedi Order series, despite some of its flaws, had that kind of overarching vision to carry the readers through the journey with its characters.
With Fate of the Jedi, I've wondered if I'm just missing the point altogether. But there hasn't been a lot in the way of discussion on this topic on any of the major fansites, so I don't think it's just me.  When spoilers were revealed for Allies, a few people wondered if the "she" might be Callista, but her relevance within the storyline proved to be nothing more than a fanboyish hook to twist up poor Luke's emotions. So the epigraph clearly wasn't meant to be Callista. But who then? Jaina? Tahiri? Leia? Saba? Have they really given us enough in the story to even justify it being any of those characters?
Honestly, my impression is that the promise of the opening got lost along the way in all the other things – multiple Force sects, teenage melodrama, an unending supply of Luke's ex-girlfriends – the writing team wanted to insert into Fate of the Jedi.  With the oppressive malaise surrounding the female characters' arcs, I sometimes wonder if the writers even remember what they offered us as readers at the start. And that's been the problem with the flagship series since the NJO: no one person appears to be steering the ship and making sure the books follow the course.  It's more than just editorial control but lack of a unified storytelling vision.
Still, the Star Wars fan in me, who has spent many a night curled up with an EU book, many of them Allston classics, is crossing her fingers and hoping we get some nuggets that help fans form an opinion – more importantly to care enough – about who "she" is.
---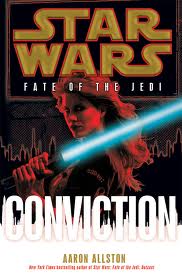 Fate of the Jedi: Conviction
drops in bookstores on Tuesday, May 24
th
. I expect spoilers to hit within the week, though, after ARCs were offered up by the Star Wars Books Facebook page in a Monday giveaway and Random House rewarded a few fans with quick Twitter fingers on Wednesday with audiobooks.  These early releases are a great step toward generating interest among potential book buyers, and I'm glad to see the Powers That Be using these types of promotions to pump up their product before it hits the shelves. 
Considering that the Powers That Be aren't overly fearful of spoiling the book, I find it odd they still haven't put a face forward to project the excitement of the team involved in creating the series.  If they're willing to allow fans to generate spoiler buzz, wouldn't leaking a few select spoilers directly (the current model for The Clone Wars) be a way to showcase internal excitement for the product and help foster goodwill between the story creators and fans? It's this reluctance that still has me a bit worried about where the series is going to go; I keep wondering what they're afraid of… and if we should be afraid too.
---
The Fangirl Cantina will be hosting a discussion on the possibilities surrounding who exactly "she" is. Weigh in
here
if you have an opinion.