April turned into the blog's biggest success in terms of feedback, and unique and return visitors, since I kicked off FANgirl Blog.  May promises plenty more interesting discussion. 
---
Science Fiction Realized: the end of the Space Shuttle era
– This month the shuttle
Endeavor
will take off for the last time. A month later
Atlantis
will venture upon her last journey, as well. As a young intern in college, I was blessed with having worked on the shuttle program, and find the end of the era more bittersweet than I ever could have imagined back then. 
---
DANGER: Reboot Ahead!
– There is a lot of talk these days about continuity and canon, and there are some who think the recent continuity snafus are indicative of a potential reboot of the Star Wars Expanded Universe. While I've argued that the troubles with continuity shouldn't be fandom-shattering, I do think a reboot could. Star Wars shouldn't look to Star Trek – a franchise that was deep in the hole with its fans – or to comics and their derivative reboot movies when considering future ventures. I'll discuss why a reboot, or multiple alternate-universe spinoffs, could create a black hole in the franchise. 
---
THE EVENT
– In discussing the current problems within Star Wars Expanded Universe literature, I've tried to stir up thought and discussion on ways to invigorate the franchise.  Some of my key points have been better storytelling and continuity of characterization.  The appeal of Star Wars is the journeys of its heroes, and I think it's time to let some of the next generation of Jedi Knights complete their arcs and take their place as legendary heroes like those that have gone before them. In the process I think the books can create an event unlike any other we've seen so far in the EU – and that will generate new fans, get fans who don't generally read the EU to pick up a book, and propel the novels back to the top of the
New York Times
Bestsellers List. 
---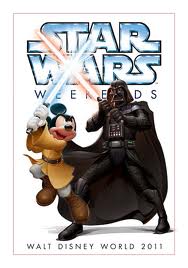 Star Wars Weekends

 –
Finally, May once again marks the beginning of the annual four-weekend celebration of Star Wars
at Disney's Hollywood Studios in Florida. The much-anticipated grand reopening of the
Star Tours
ride – now in 3-D! – has received the most attention, but there's a lot more to look forward to, as well, including brand new merchandise from
Her Universe
and great
special guests
.
---
Suggested reading on writing
– The newest issue of
Star Wars Insider
, #125, has three interesting articles from three highly regarded Star Wars scribes. One article,
Dave Filoni: Clone Ranger
, discusses some of the great storytelling developments in Season Three of The Clone Wars, and looks ahead to the future in Season Four. Another,
A Writer's Tale
, features Katie Lucas and her insights into writing the Nightsisters trilogy. Last but not least,
Books: The Future of Star Wars
highlights Aaron Allston's typical wit as he talks about his upcoming novel,
Conviction
.
---
Here are a few of the other things we're looking forward to in May: 
New Star Wars Novels 
New Star Wars Comics 
Legacy: War #6 – May 25th
Thor – May 6th
Priest – May 13th
Pirates of the Caribbean: On Stranger Tides – May 20th
Kung Fu Panda 2 – May 26th
New Releases on DVD 
The Green Hornet – May 3rd
Covert Affairs, Season One – May 17th
I Am Number Four – May 24th
True Blood, The Complete Third Season – May 31st
May Sweeps Television Season Finales 
Fringe – May 6th
The Vampire Diaries – May 12th
Nikita – May 12th
Smallville – May 13th (two hours) (series finale)
Castle – May 16th
The Big Bang Theory – May 19th
Supernatural – May 20th (two hours)
The Event – May 23d
Glee – May 24th
Latest posts by Administrator
(see all)