Getting Tangled in the Star Wars EU
I do mean Tangled with a capital T, as in the Disney movie for kids. It's still reeling fans in at the box office, yet the DVD release has been consistently on Amazon.com's Top Sellers List even though its release date is yet to be announced.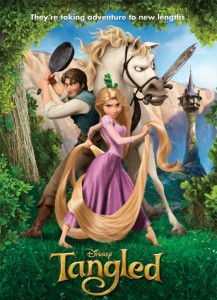 There are some great incentives for pre-ordering, including price, of course, but it's safe to say people typically don't pre-order something they don't want.  The pre-sales certainly don't surprise me. Over the Thanksgiving holiday a group from my family, ranging in age from preschooler to grandparent, went to see Disney's new animated feature. Everyone left the theater smiling.
Disney's last-minute name change from Rapunzel to Tangled probably got more attention than a lot of the other buzz around the movie. Some cried foul; others spit outrage. I have to admit I was originally nonplussed by the whole idea. After thinking about it, though, I decided it didn't really matter if it was nothing more than a cheap marketing ploy to bring more boys into the theater. Having shared the movie with my nephews (ages 5 and 7), I'm pleased that they experienced this fairy tale adventure: the story of a boy and a girl and how they each made their dreams a reality.
Tangled is a very loose interpretation of a fairy tale known to most people through the Brothers Grimm. While there is a dose of peril and mayhem, Disney avoids some of the darker moments from the earlier version. Of course, Rapunzel is the familiar character to movie-goers; Tangled brings to life a new character, Flynn Rider.
Both Flynn and Rapunzel are characters existing in unfortunate circumstances, and it's quite possible they could have simply chosen to become victims of those circumstances. As the story lets down its hair, though, both characters decide to live their dreams and rise above those expectations. Most importantly, their ascensions out of the glooms of their existence come on the heels of purely selfless acts. This is a powerful message for the boys and girls who watch Tangled, and perhaps one of the reasons it's proving successful.
To create this equal-opportunity message, Disney had to ignore some of the tried-and-true formulas for princess fairy tales. Rapunzel isn't waiting to be rescued; instead, she's bound and determined to see and understand a yearly phenomenon known to her as "the lights."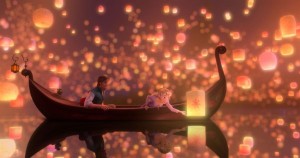 Likewise, there's no noble knight on a quest to rescue the long-vanished, kidnapped princess, but rather just a charming yet hapless prince of thieves who inadvertently stumbles into her life. While we're used to dashing heroes brandishing swords, the weapon of choice here is a frying pan, a self-reliant woman's kitchen weapon of opportunity if there ever was one. For most of the movie, we're meant to believe Rapunzel's power is intricately tied to the beauty of her golden hair, and in the most profound moment, viewers of all ages and sexes are reminded that it is what is inside that matters the most.
So what does a Disney movie have to do with the Star Wars Expanded Universe? Most importantly, it matters because the EU is struggling much like Disney had been. Think about The Princess and the Frog, which garnered critical acclaim but failed to deliver at the box office. Looking forward to Tangled, Disney realized it wasn't going to succeed with a princess movie by just appealing to the girls. Unfortunately, the Star Wars EU hasn't seemed to have quite hit upon the realization that it's not going to reach new levels of sucess by appealing strictly to the fanboys.
But there's more to it than that. When Irvin Kershner died last month, almost every article contained the same quote from the director of The Empire Strikes Back.
"It took a few years for the critics to catch up with the film and to see it as a fairy tale rather than a comic book."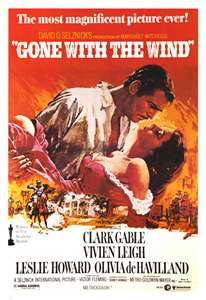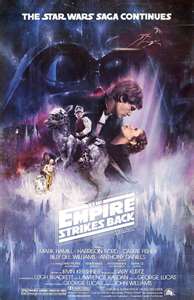 Star Wars is George Lucas' phenomenon, but there's a pretty strong consensus among diehard and casual fans alike that the Kershner-directed The Empire Strikes Back is the best movie of the six. With its movie poster homage to a female favorite Gone With The Wind and a fairy tale storytelling style, the movie was intended to captivate more than just male fans. The trouble was, for Kershner, that the original Star Wars (later known as A New Hope) was a comic book, and comic books stories have historically appealed somewhat less to everyone and more to men. A recent MSNBC article sums up Kershner's philosophy by quoting the director –
"For the first film the actors had it in their minds that this was a comic book brought to life," Kershner said. "They acted partly tongue and cheek. When I decided to do the second film, I said to myself that this is the second act of a three-act trilogy.

"When I met with the stars, I said, 'I have been thinking about the film and I have come to a conclusion, this is a fairy tale, not science fiction. As a fairy tale, you have to play it straight, dramatic.' So I read Freud and Jung about what fairy tales are and that gave me a fix for what the film should look like."
Considering Kershner is one of the few men in the history of film to have improved on an original, his words very much ought to be relevant as the Powers That Be work to regain their footing in the realm of books and comics. Star Wars isn't ever going to be a Disney fairy tale with talking chameleons and fairy godmothers, but the EU does need to become more aware of the full breadth of their audience and not discount its potential by telling only comic book stories, or any other tales that only fascinate the male half of the consumer base.
Finally, it's important to remember that Star Wars, in its movie form, always had a princess. First Leia, then Padmé. Both women captivated female fans and seduced the male fans; they were tragic and heroic figures. The EU, too, had its equivalent of princesses in Mara Jade and Jaina Solo, both of whom had their first appearances in the very origins of the modern EU, Tim Zahn's Thrawn trilogy. Yet even with two women at the editorial helm, Sue Rostoni at Lucasfilm and Shelly Shapiro at Del Rey, the EU managed to snuff out one and stuff the other in a proverbial box. Given that in recent years more fictional material has been created to capture the imagination of women, it certainly hasn't come as a surprise to female fans that Star Wars book sales are flagging.
Perhaps what Tangled has done is proven that fairy tales, even if the happiness truly is fleeting, really do matter. I hope that, like a sage Force-ghost, Irvin Kershner's words echo down the halls of Lucas Books, Del Rey and Dark Horse. And more importantly, that unlike Luke in Episode V, the Powers That Be listen.