Indiana Jones Summer 2023: Food, Fortune, and Glory
With the release of Indiana Jones and the Dial of Destiny three weeks away, yesterday FANgirl Blog attended the "Food, Fortune, and Glory" summer 2023 preview event held at Jock Lindsey's Hangar Bar at Disney Springs in Orlando, Florida. In addition to the food and beverage tie-ins at Walt Disney World, the event highlighted Indiana Jones merchandise from a wide variety of licensees.
Beginning today, June 9, a limited time pop-up location called the Den of Destiny will be available at Hollywood Studios, located adjacent to the longstanding Indiana Jones Epic Stunt Spectacular! theater. At the Den of Destiny fans can "enjoy exclusive libations inspired by daring explorers, step into photographic moments among rare antiquities from perilous expeditions, and discover costumes and props from pursuing the Dial of Destiny." The non-alcoholic L'Atlantique Green Tea, by a location visited in the Dial of Destiny film, is delicious combination of pomegranate and agave nectar. The Adventuress Margarita, inspired by Phoebe Waller-Bridge's Helena Shaw (Indy's goddaughter), definitely makes the cucumber and lime flavors noticeable. The Weathered Fedora, whose name needs no explanation, will be very satisfying for those with a taste for bourbon.
The other Dial of Destiny tie-ins at Walt Disney World will await the release of the movie on June 30. The Ganachery, which frequently delivers fun connections to films and Disney+ series, will offer a Marion's Medallion chocolate pop based on the Staff of Ra headpiece and an Indiana Jones chocolate piñata that combines the shape of the famous boulder from Raiders of the Lost Ark with Indy's signature hat and leather jacket. Amorette's Patisserie will sell an Indiana Jones Petite Cake also featuring Indy's familiar attire (plus the whip) and Moroccan flavors of vanilla and almonds.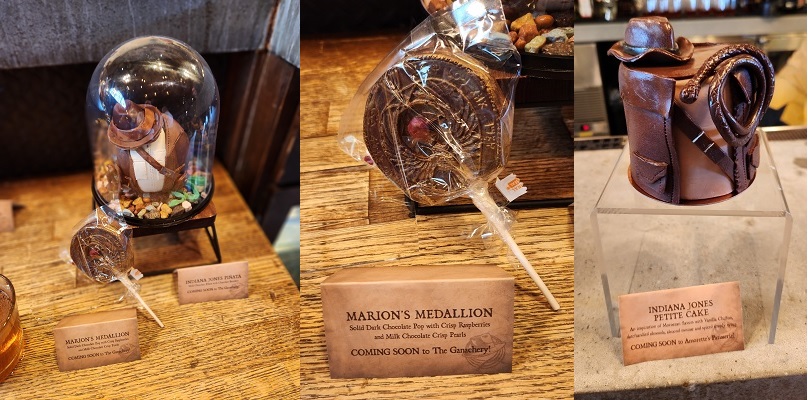 Naturally, Jock Lindsey's Hangar Bar will feature special menu items for Dial of Destiny, available from June 30 to August 15. The surprising star dish is the Marché Stuffed Dates and Figs: the figs are soaked in cognac, and the dates are stuffed with almond and goat cheese and wrapped in prosciutto. This one is definitely worth ordering! Of course, this is not to undersell the Giant Bacon For All Mankind – chocolate-covered bacon with a bit of a spicy kick, accompanied by an Old Fashioned for two and served tableside within dome of smoke – with a name inspired by the Apollo 11 moon landing parade seen in the film. (Recurring visitors may recall that the Hangar Bar has offered a comparable limited-time bacon dish previously.) In addition, the current menu item Chicken on the Egg will be served on a new airplane display stand, rather than on a flat tray. Finally, the Hangar Bar will offer the Charter Flight, smaller portions of three fan-favorite drinks from the menu: the Cool-Headed Monkey (rum), Reggie's Revenge (vodka), and Mayor's Reserve (bourbon).

Among the merchandise, two luxury items earned particular attention. Fans can purchase an authentic Indiana Jones leather jacket from US Wings, the company that makes the bomber jackets for the real-world Top Gun pilots and which has an exclusive license for Indy's jacket. In Dial of Destiny, Indy wears a watch for the first time – and the filmmakers chose to use Harrison Ford's preferred brand, a Hamilton Boulton, a design dating back to the 1940s. The screen-worn watch was on display at the preview event; fans can purchase a watch for themselves from Hamilton.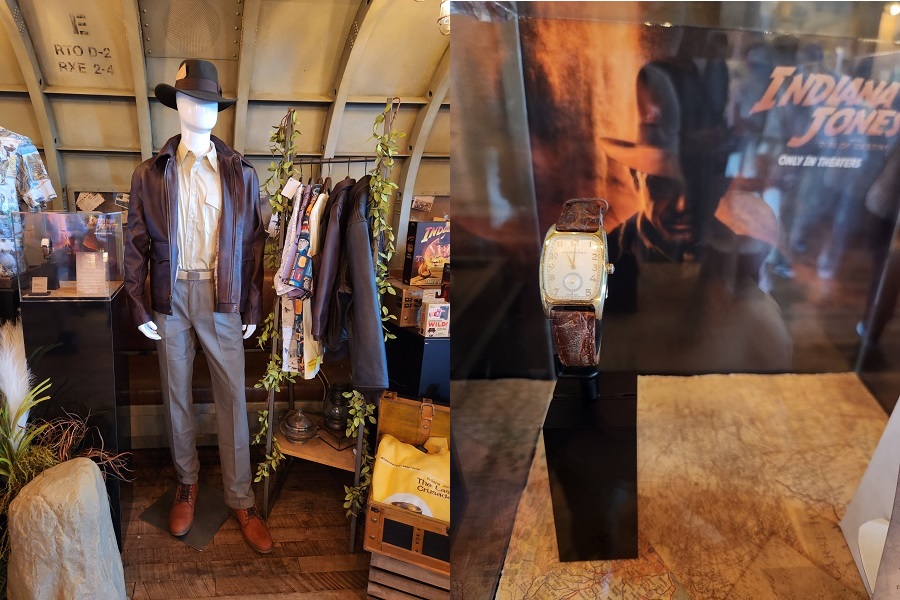 Other merchandise displayed at the preview event included a wide variety of products themed to the Indiana Jones franchise as a whole. These included Hasbro action figures, LEGO building sets, Funko Pops, RockLove jewelry, a Loungefly mini-backpack and wallet, a Gentle Giant mini-bust and replica fertility idol, and clothing from several vendors.
Indiana Jones and the Dial of Destiny opens in theaters on June 30.