The Stories Told By White Men Rise to the Top at the Lucasfilm Showcase: Star Wars Celebration Anaheim 2022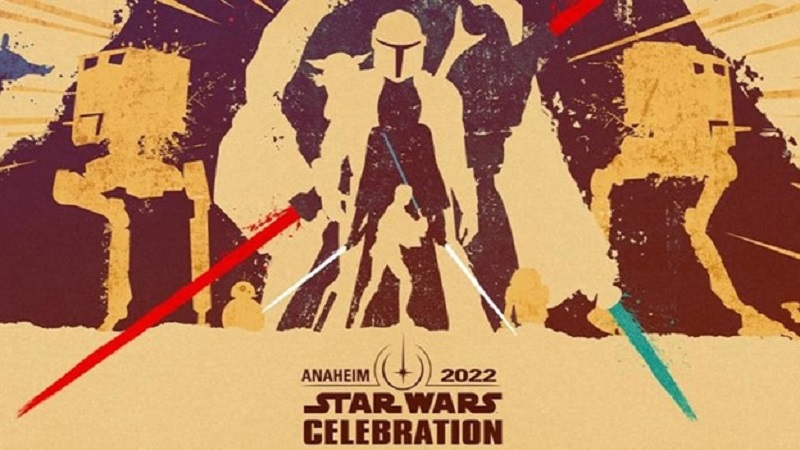 The Lucasfilm Studio Showcase panel opened Star Wars Celebration Anaheim 2022 on a high note with the Pacific Chorale performing "Duel of the Fates" live. Host Yvette Nicole Brown introduced to the Celebration Stage audience key participants in the Obi-Wan Kenobi series: Ewan McGregor (Executive Producer/Obi-Wan Kenobi), Hayden Christensen (Anakin Skywalker/Darth Vader), Moses Ingram (Third Sister/Reva), Rupert Friend (Grand Inquisitor), Deborah Chow (Director), and Kathleen Kennedy (Executive Producer/President of Lucasfilm). Standing beside Christensen, McGregor told fans, "To feel the warmth, that's meant an enormous amount to us." Newcomer Ingram told Brown, "It's crazy [to play an Inquisitor], but not as crazy as this [panel]." Elating the crowd, McGregor invited everyone in the room and the two streaming stages, Galaxy and Twin Suns, to return that evening for the World Premiere of Obi-Wan Kenobi's first two episodes. (For our breakdown of the storytelling in Obi-Wan Kenobi, check out the latest episode of Hyperspace Theories podcast.)
The upcoming Disney+ series Andor brought a trailer that set the scene for a tale about everyday people faced with galactic stakes. Infectiously excited star Diego Luna (Cassian Andor) declared, "There is no way they'll kill me," given that the show is set prior to the events of Rogue One. Writer and showrunner Tony Gilroy explained that Andor has a first season consisting of twelve episodes starting August 31, 2022, and they will return to film a second season of twelve episodes in November. Genevieve O'Reilly expressed that it was a gift to come back to the role of Mon Mothma, who she originally portrayed in Revenge of the Sith. Also on stage was Andor's executive producer, Sanne Wohlenberg.
The showcase then departed the galaxy far far away, bringing on original Willow (the film) director Ron Howard and Willow (the series) showrunner Jon Kasdan to hype the upcoming Disney+ show. Joanne Whalley joined the stage to declare, "I've got Sorsha's sword back in my hand again!" Not included on the panel was originally announced co-showrunner, Wendy Mericle, who now is only listed as an executive producer in the official press release. The series has had similar problems to Solo, also a Jon Kasdan project, with multiple directors excitedly joining the project and then leaving. The trailer reveals the story takes place twenty years after the film with Willow (the character) appearing to have a place in the story similar to Luke Skywalker in The Last Jedi. The three lead actresses Ellie Bamber, Ruby Cruz, and Erin Kellyman closed out the panel by introducing their characters: Dove, a kitchen maid; Jade, a knight-in-training; and Kit, daughter of Sorsha and Madmartigan. Considering how Solo handled its female characters, we'll watch this series with our fingers crossed for better portrayals when it premieres on November 30, 2022.
Jon Favreau and Dave Filoni took the stage to preview their panel (cheekily titled "Mando+") set for Saturday morning and introduce The Mandalorian Experience, a display of costumes, props, and set pieces from The Mandalorian and The Book of Boba Fett. For a better look at the Experience check out Fangirls Going Rogue's Instagram story and footage of the Grogu and bantha puppets operated by Legacy Effects. Favreau spearheaded the Experience, telling the audience, "This is a big thank you from all of us to all of you." While many of the props and sets are going back to the studio to be used in upcoming shows, hopefully this exhibit can be shared with the public later, as it was a highlight of the convention.
The only news revealed at the panel occurred when Jon Watts and Chris Ford joined Favreau and Filoni on stage to introduce a new show, Star Wars: Skeleton Crew. The introduction included one piece of concept art and a casting announcement of Jude Law. Watts told the audience the series will focus on a group of children and "their journey trying to find their way home." Although it's a show centered around kids, Watts wanted everyone to know it's not a "kids show." For people following Star Wars rumors, this announcement cements reports of an upcoming show known by the working title "Grammar Rodeo," a nod to an episode of The Simpsons where Bart goes on a road trip with his friends in a stolen car. While there had been speculation that this show would be set in the High Republic era, Watts and Ford confirmed on the panel that the show is set in The Mandalorian timeframe.
The Skeleton Crew announcement might have lost some of its potential luster in terms of audience reaction, as a significant number of people in the crowd apparently did not immediately recognize the names or readily associate Watts and Ford with their previous films. Ford was a screenwriter on the highly successful Spider-Man: Homecoming and Watts directed all three films in the Sony-Marvel trilogy that ended with Spider-Man: No Way Home, currently the sixth highest-grossing film of all time after opening less than six months ago. Lucasfilm falls into this trap quite often, thinking their audience has the same insight into Hollywood as they do. (Or perhaps it reflects an unwillingness to elicit excitement by reference to a "rival" prominent franchise, as the announcement of Jude Law's casting in Skeleton Crew similarly made no mention of his roles in Fantastic Beasts or Captain Marvel.) As this rumor was already out in the wilds, the announcement gave the impression of confirming widely known truths rather than presuming most in the room had no point of reference, which really was the case based on the many puzzled faces around the audience.
The Lucasfilm Studio Showcase panel concluded with a surprise appearance by a figure indelibly connected to its movies: John Williams, who recently celebrated his 90th birthday. The Celebration Stage parted its backdrop to reveal a full orchestra, the Pacific Symphony, ready to perform. Kennedy introduced Williams to conduct, for the first time in a live performance for an audience, his newly written theme for Obi-Wan Kenobi. Williams followed with the iconic theme from Raiders of the Lost Ark, which brought Harrison Ford to the stage to deliver an emotional and moving tribute to the maestro. Joined by Kennedy, producer Frank Marshall, and director James Mangold, Ford revealed that the next Indiana Jones movie will release in theaters on June 30, 2023.
Notably, several of the major projects announced by Kennedy in December 2020 – including Leslye Headland's The Acolyte, Donald Glover's Lando, Patty Jenkin's Rogue Squadron, Children of Blood and Bone, and Taika Waititi's untitled Star Wars movie – received no mention at the Lucasfilm Studio Showcase panel in May 2022. All of them seemingly have languished in the development process. Children of Blood and Bone, an adaption of a popular sci-fi fantasy novel series by Tomi Adeyemi, ultimately moved to Paramount Studios. The Acolyte had been promoted by Lucasfilm as recently as last month, with Vanity Fair's Star Wars extravaganza including an interview with Headland. None of these titles would have been headed by a white man. Meanwhile, shows fronted by Jon Favreau, Dave Filoni, Tony Gilroy, Jon Kasdan, and Jon Watts have been either extended or moved into production. Likewise, Robert Rodriguez was tasked with shepherding The Book of Boba Fett as a spinoff limited series while Favreau continued work on the third season of The Mandalorian and Filoni turned his focus to Ahsoka; Deborah Chow took over Obi-Wan Kenobi only after the original intended showrunner, Stephen Daldry, withdrew from the project. It's unfortunately on-brand for Kathleen Kennedy's tenure at Lucasfilm, but not unexpected: she had worked almost exclusively with white male directors in her time prior to taking the reins at Lucasfilm. As Lucasfilm deals with racist and sexist attacks on Obi-Wan Kenobi star Moses Ingram, it can't be overlooked that the company time and again keeps showing the world that stories told by white men hold more importance. Overall within the convention, we catalogued a lot of positive movement regarding inclusion, but those are commitments of individual creators. The Lucasfilm Showcase is a reminder that Diversity, Inclusion, and Belonging still isn't a top down priority at Lucasfilm, as we discussed last month in our breakdown of The Book of Boba Fett.
We look forward to the day a Lucasfilm showcase lives up to the iconic Obi-Wan Kenobi dialogue spoken by Bail Organa: "She is as important as he is."
Watch the official recap of the panel below: