Daisy Ridley Roundup: February 10, 2016
After wowing fans on numerous red carpet appearances, Daisy Ridley proved on the big screen that she has the chops to be a star in a blockbuster. The Force Awakens is the first movie to hit $900 million domestically and crossed the $2 billion worldwide take this past week. Here is Ridley at the Shanghai premiere. (via Entertainment Weekly)
On February 25, Daisy Ridley will be receiving an Oscar Wilde award. The event honors the contributions of Irish in film and on television, and will be hosted at Bad Robot's office in Santa Monica. (via THR)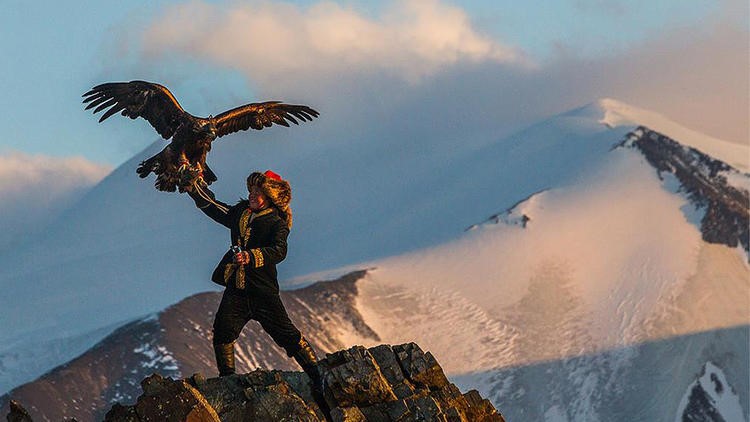 Leveraging her star power, Ridley announced shortly before the Sundance Film Festival that she had taken an executive producer role for the movie The Eagle Huntress, the first documentary to premiere in the Sundance Kids section. According to Deadline, "Ridley signed on after seeing a cut of the film. She hopes it helps create awareness of what they describe as an epic tale of female empowerment." The L.A. Times takes a look at the adventure behind making the movie of thirteen-year-old Aisholpan, who challenged 2,000 years of tradition to become the first female to hunt with eagles. Variety reports Sony Classics has acquired the rights to the movie.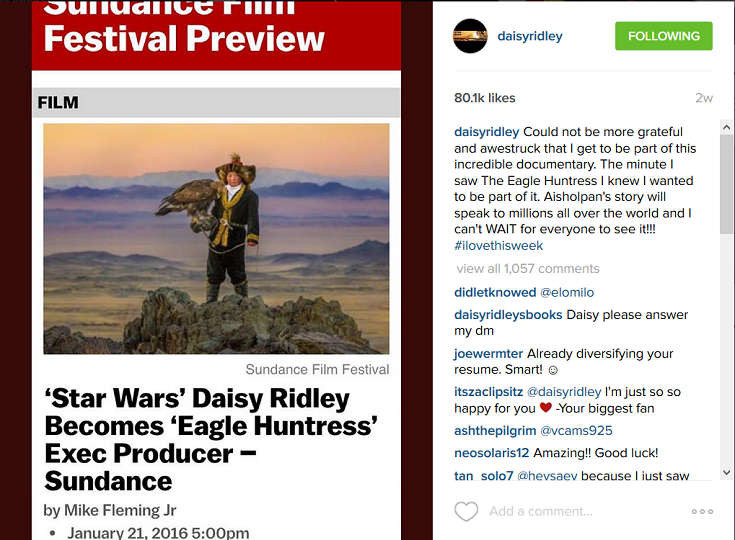 This is one way diversity in movies helps change the future of the industry. In the press lead up to The Force Awakens Ridley had spoken out about female empowerment and the lack of roles that live up to the character Rey in agency and impact within scripts she has seen. Now she is in a position to put her Star Wars power behind movies she would like to seen made.
The role of Rey has skyrocketed the actress' popularity. Fans can vote for her in the Kids Choice Awards.
Rey will have a new book out next week from Disney Publishing. Written by Elizabeth Schaefer, the new adult fiction editor at Del Rey, Rey's Story relates the events of The Force Awakens from the female lead's point of view.
This month also marks the return to shooting. Kathleen Kennedy sent Ridley flowers and along with the script for Episode VIII.
Ridley's latest Fitness Friday Instagram post proves she ready to kick butt and take names. Here's Ridley celebrating the Chinese New Year with the stunt actor Liang Yang, who played the stormtrooper dubbed TR-8R by fans.
Fans will get a chance to hear Daisy Ridley as Taeko in the Studio Ghibli film Only Yesterday. She talked about the movie with Entertainment Weekly.
Only Yesterday hits theaters on February 26.
Finally, if you are looking for an autograph with the actress, there are events in motion that suggest the buyer should beware. For more on the controversy surrounding her autographs, this report by Frank Rich is worth the read.
We'll close with some favorite Rey fanart spotted around the web.
For more on Rey and her Hero's Journey in The Force Awakens, check out a special edition of Hyperspace Theories podcast.
Check here for all the Daisy Ridley Roundups on FANgirl.