Anna Graves on Fangirls Going Rogue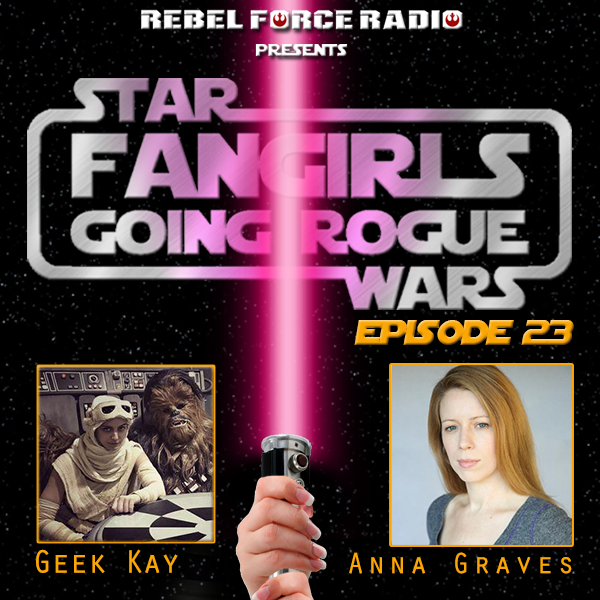 Voice actress Anna Graves was one of my favorite interviews ever on Fangirls Going Rogue. And we've had a lot of amazing interviews. Have you checked this episode out yet?
It's a Force Friday bonanza on this episode of Fangirls Going Rogue. Teresa Delgado, Tricia Barr, and Sarah Woloski share their experiences from Force Friday events across the country. From the unboxing live stream seen around the world to fans attending midnight madness, we break down the merchandise mayhem. Kay from FANgirl Blog joins the discussion to fill our listeners in on Star Wars happenings at Dragon Con, from cosplaying Rey of The Force Awakens and celebrating Kathleen Kennedy Day to the VIP panels with Peter Mayhew and Vanessa Marshall. The Journey to The Force Awakens publishing program released a swell of books, and Tricia offers suggestions on where to start while Sarah shares details of DK Publishing's Star Wars: Absolutely Everything You Need To Know book launch at Mysterious Galaxies in San Diego. In a special interview, Anna Graves tells the Fangirls about voicing Princess Leia for Disney Infinity and Duchess Satine Kryze and Sugi on The Clone Wars. The character discussion dives into the male characters from The Force Awakens that we find intriguing.
Connect with Anna Graves on Twitter @gravyvoice and Facebook.
Here are links to a few of the other shows we reference:
Don't forget you can get your own Fangirls Going Rogue or #fangirlflail shirts from our store.
Fangirls Going Rogue is available on Shotglass Digital and iTunes or subscribe to the RebelForce Radio RSS feed.
Fangirls Going Rogue: @FGGoingRogue
Tricia: @fangirlcantina
Teresa: @icecoldpenguin
Sarah: @JediTink
Kay: @Geek_Kay
Email: contact@fangirlsgoingrogue.com
Facebook: Fangirls Going Rogue
Tumblr: fangirlsgoingrogue.tumblr.com
Instagram: @FGGoingRogue
Voicemail: 331-21 Ewoks or 331-213-9657
Please like Rebel Force Radio on iTunes and leave a positive review, and in your review mention how much you enjoy Fangirls Going Rogue.