Alyssa Rosenberg: Reporter, Feminist, Science Fiction Fan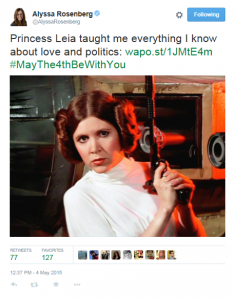 by Priya Chhaya
There was a time a few years ago where I lived to get my pop culture commentary from the Washington Post (WaPo). Mostly it involved weekly live chats about a little show called LOST with Jen Chaney and Liz Kelly. But when the column, Celebritology, went defunct I parted ways with the Style section and leaned on other blogs like Vulture and Entertainment Weekly for my daily dose of movies, television, and books. Then, as a true child of the digital age, I found myself sharing pop culture articles from the WaPo again and it was a few months before I realized they were all by one person: Alyssa Rosenberg.
Her column, Act Four, covers a wide array of topics – in one week you could find her waxing over a plot point in Orange is the New Black, providing recaps of Game of Thrones, all the while covering the culture angle of a particular real life event (such as the tragic movie theatre shootings). As I read her work I realized that there are two things that I really love about her writings. The first is that no matter the subject, Rosenberg is incredibly honest and fair with her commentary. The second is that when dealing with tough subjects she does so in a thoughtful and respectful manner.
This is most evident in four pieces she put together in the last year:
Of course there is always a Star Wars connection. When I first started following her on Twitter her bio mentioned she was a fan of the #SWEU and I quickly realized that her evolution of feeling towards the new Disney franchise evolved with my own. Check out these pieces from her column:
And in case you missed it, read this awesome article she wrote about Princess Leia for this year's May the Fourth.
I recently had the opportunity to ask Rosenberg a few questions about her process. Here are her responses:
How did you become a writer – specifically a writer looking at and analyzing pop culture?
I grew up pretty divorced from pop culture, except for books – my first gig as a writer was actually when I was eight years old. I wrote children's book reviews for the local newspaper when my family lived in Vermont. But because I had so little idea what was going on in culture, when I got to college and started really plugging into movies and music beyond the classics my parents had introduced me to, it felt like the world dramatically expanded. Even then, I didn't really consider the idea of being a critic. But after I'd spent a couple of years as a journalist – I was a fact-checker at National Journal and spent three years covering federal personnel policy for Government Executive – I realized I needed to figure out what I wanted to specialize in, and culture felt like a possibility. I started freelancing and blogging about culture as an experiment, to see if culture was the subject that could sustain me. I feel tremendously fortunate that it turned out to be a beat that felt like home, and that people wanted to read what I wanted to say.
One of the core topics of your columns is examining the strengths and weaknesses of female characters on television. Do you have a working definition of what "strong" is to you?
Well, I'd note that "strength" isn't actually something a female character has to be in order for me to think she's well-drawn or interesting. One of my favorite shows to watch at the moment is UnREAL. The main character on that series, Rachel, is weak in a lot of ways: she's self-deluding, easily influenced, and impulsive. But she's specific in ways that I find interesting. I understand every decision she makes, and the plot feels driven by her choices and ways of thinking, rather than the other way around. I think mostly what I'm looking for with female characters is a certain integrity to them. Do they feel like real people? Does a show, book or movie seem interested in their specific way of being female? If so, I'm probably pretty happy.
As a historian, I think a lot about inclusion – i.e., making sure that the larger narrative of history includes all perspectives, and all stories. Shonda Rhimes talks about "normalizing" storytelling on television and film. What do you think is the biggest hurdle to reaching those goals?
I wrote about this in a big piece this May. I think among the biggest hurdles to making Hollywood more representative is getting more perspectives in the room, and as I wrote in that article, the way Hollywood is structured makes hiring reform basically impossible. I do hope that the success of things like Empire will make the white men who dominate the industry more interested in new perspectives, if only for mercenary reasons.
Out of all the stories you've written – what was your favorite piece?
I feel really good about the piece I wrote about the contemporary culture wars last fall. And I've really been enjoying writing more historically-oriented pieces, like the ones I've done about black Hollywood and photography during the Civil Rights movement. If I've learned anything from writing about pop culture, it's that this is a wildly cyclical business, and there's hardly anything that happens that's purely new.
What do you love most about the Star Wars universe?
I love its expansiveness. Yes, you can focus on the Jedi, or the Rebellion and the Empire, but you can get lost in alien species, conflicts over trade routes, smuggling subcultures and force-sensitive witches. It's big and playful, and people have contributed so many terrific ideas to it. I just appreciate how alive it feels.
What is your number one (new) hope for the stories (films, books, comics) being released in the next few years?
As much as I think the Force is a wonderful invention, I really hope we can get beyond Jedi-focused stories. The world's so big and so much fun that I hope Disney has the good sense to take full advantage of it.
I couldn't help but sneak in one last question. I was just curious to know if you had a favorite SWEU book.
The Rogue Squadron quartet, far and away. Terrific characters, interesting, resource-driven conflicts, and a supervillainess who's actually a completely worthy adversary – what more could a feminist science fiction fan want?a
---
Priya Chhaya is a historian who loves the written word. When she's not reading anything she can get her hands on she is writing about the past and its intersection in our daily lives on her personal blog …this is what comes next.
Latest posts by Priya Chhaya
(see all)