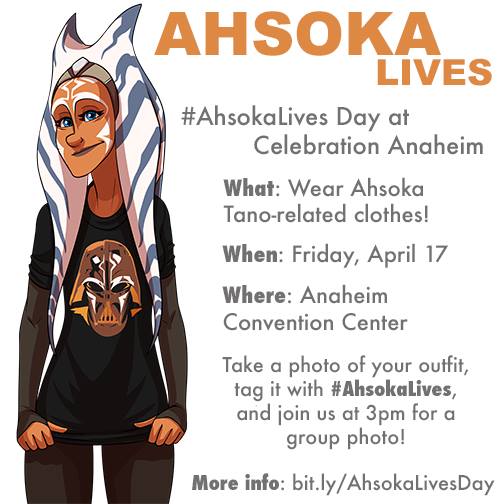 Fangirls extraordinaire Amy Ratcliffe and Johnamarie Macias have created and promoted an event at Celebration Anaheim to rejoice in Ahsoka's return to Star Wars.
From the event's page on Facebook:
Love Ahsoka Tano? You're not alone. We (we being Johnamarie Macias and Amy Ratcliffe) are so excited about the return of Ahsoka Tano on Star Wars Rebels and we want to celebrate in style. We're going to make the Friday of Star Wars Celebration Anaheim a special day: #AhsokaLives Day!

All you have to do to participate is wear Ahsoka-related anything! T-shirts, costumes, costume t-shirts, face paint – you get the idea! As you might guess, Her Universe has a few options in the category. We'll meet by the fountain in front of the Anaheim Convention Center (you can't miss it!) for a group photo at 3:00pm.*

Whether you can make it to the group picture or not, take a photo of your outfit and be sure to tag it with #AhsokaLives! And you can participate even if you're not at Celebration!

"It's a new day. A new beginning."

Note: This event is run by fans and is not affiliated with Lucasfilm.

*In the event of bad weather, we'll meet inside the convention center by the entrance nearest to the fountain.

Ahsoka Lives art by Elisa, http://lledra-fanstuffs.tumblr.com/
Fans are encouraged to share the #AhsokaLives information image in this post to spread word of the event. Even if you can't make the photo op, you can still show your appreciation for Ahsoka Tano by wearing a shirt or posting images of fellow fans in their Ahsoka gear, using the hashtag #AhsokaLives.
While we're on the topic, how about this fantastic fan art by Charles Tan, shared on his Deviantart page?
---
For updates on all things FANgirl follow @FANgirlcantina on Twitter or like FANgirl Zone on Facebook. At times she tries the Tumblr.