Put More Of This In My Star Wars Read-Along: SAGA
The contributors at FANgirl have talked a lot about what we feel is missing from Star Wars: diversity in stories and creators, tales about love and family, romance. We also have spent a lot of energy trying to talk about what's missing in the current roll-out of books. I've had contributors expressing frustration that, at least from the books, we haven't seen enough change. As administrator and owner, I've decided to change tactics.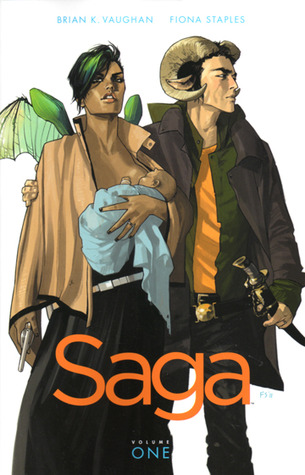 An incredible and deep roster of books, comics, movies, and television shows are telling the kinds of stories we have been asking for. In fact, they are proving many of the points made by myself, Kay, Mary, Linda, and Priya, which is that you can tell smart, deep stories in a variety of different ways and do it in a financially successful way. If you look at our Four Years and Counting retrospective posts, we each talk about enjoying stories together. That is how we made friendships around the Star Wars Expanded Universe ten years ago.
So in 2015, we're going to go back to doing what drew us together: reading stories together. Each of the stories picked will have some connection to Star Wars and will promote our goals as readers and fans. We're going to show you what we like to see in our stories, and we invite you to join us on the adventure. In advance of every month's story we will preview the story and offer up one copy in our Read-Along contest.
Up first is the comic series Saga by Brian K. Vaughan and Fiona Staples. When Legion of Leia interviewed former DC and Disney Publishing Worldwide comics editor Janelle Asselin last year, she recommended Saga. At the Eisner Awards announced at San Diego Comic-Con, Saga won Best Continuing Series, Best Writer, and Best Painter/Multimedia Artist (interior art). At their San Diego Comic-Con panel Vaughan and Staples acknowledged their epic space opera story is partly inspired by Star Wars, but that they also sought to challenge some of its longstanding tropes. Tor.com recently featured Saga in its Pull List. Here's what blogger Alex Brown had to say:
It's ambitious and profound without being grandiose or pretentious. And all because Vaughan wanted to "Trojan horse" a story about parenthood into SFF. Once he "realized you could tell a Rosencrantz and Guildenstern-style story with just two parents who are just sort of background plays in this much larger, epic war."

Saga isn't just about parenthood. It's bigger than that. It's about is family: romantic, procreative, genetic, platonic, and beyond. Families formed through professional relationships, through military hardships, through recreational drug use. Families forged out of necessity, desire, fear, desperation, lust, altruism, hatred. It is an in depth analysis of all the ways families work, fail, stagnate, and rekindle in the guise of an epic SFF space opera.
All those things, that's what we've been looking for. For your chance to receive a free copy of Saga Volume 1, leave a comment below using a valid email address. A winner will be selected at random on January 10th, 2015.
You can find Saga at your local comic book store or online retailers.
---
Tricia Barr took her understanding of brand management and marketing, mixed it with a love of genre storytelling, and added a dash of social media flare to create FANgirl Blog, where she discusses Star Wars, fandom, and strong female characters. She is one of four authors on the upcoming Ultimate Star Wars from DK Publishing, has written several feature pieces for Star Wars Insider magazine and is a contributor for Her Universe's Year of the Fangirl. Her FANgirl opinions can be heard on the podcasts Hyperspace Theories and RebelForce Radio Presents Fangirls Going Rogue.
Tricia Barr's novel, Wynde, won the 2014 Independent Publisher Book Award Gold Medal for Best Science Fiction/Fantasy/Horror Ebook. She was also part of Silence in the Library's successful all-female creator science fiction and fantasy anthology Athena's Daughters, which is available now. For excerpts and tales of her adventures in creating a fictional universe, hop over to TriciaBarr.com.
For updates on all things FANgirl follow @FANgirlcantina on Twitter or like FANgirl Zone on Facebook. At times she tries the Tumblr.