In Star Wars News: Author Claudia Gray Is Awesome!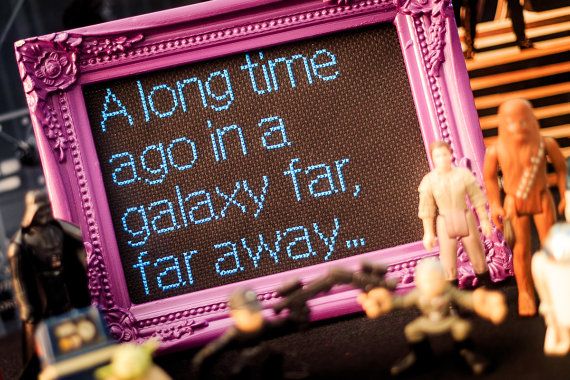 Claudia Gray, author of an Episode VII tie-in middle grade novel due out in September 2015, talked about her interaction with an individual on Twitter who said Star Wars is for boys. (via StarWars7News)
In 1980, EVERYONE EVERYWHERE IN THE WHOLE WORLD LOVED STAR WARS. I cannot emphasize this enough. From 1977 to 1983, Star Wars was basically as popular as Harry Potter, Twilight, Hunger Games, One Direction, American Idol, NASCAR, chocolate, and oxygen, combined. Also, EVERYONE EVERYWHERE IN THE WHOLE WORLD includes girls. I personally built an X-Wing fighter simulator in my closet, owned a "Star Wars Passport" that guaranteed me entry to Mos Eisley Spaceport and Cloud City (have not tested this, more's the pity), and had collected a group of Star Wars action figures that rivaled my brother's in quantity and desirability. He really only had the edge because the Millennium Falcon playset was his, though I played with it nearly as much as he did. (Once, when allowed to borrow the Lando Calrissian action figure that was clearly and undeniably my property, said brother traded it to another kid – for a lowly Hoth Ranger, no less! – and that remains a point of contention to this day. Yes, we're in our 40s. Your point?)

And no, I was not the only girl out there who felt that way. All my friends loved Star Wars. Lucasfilm made Princess Leia dolls, and Princess Leia bubble bath, and Princess Kneesa stuffed Ewoks with pink headwraps; they knew there were little girls who loved and wanted these things. I'm in a Mardi Gras krewe here in New Orleans called Chewbacchus – cofounded by a woman – in which women and men both dress up in science fiction costumes to parade around. A good friend of mine named Jen Heddle loved Star Wars as a kid, then as an adult, so much and so deeply that she now works for Lucasfilm. Every single one of those women grew up loving Star Wars. No, it wasn't just me.
As we used to say on the Star Wars message boards: QFT*. Additional news on The Force Awakens tie-in novels can also be found at Club Jade.
Image via Pinterest
*Quoted For Truth
---
For updates on all things FANgirl follow @FANgirlcantina on Twitter or like FANgirl Zone on Facebook. At times she tries the Tumblr.