Fangirls Going Rogue Episode 10: Fangirls Geek Out Loud
On this month's episode of Fangirls Going Rogue, Steve Glosson of Geek Out Loud joins Teresa Delgado and Tricia Barr for a lively and fun discussion about Star Wars.
Before getting started, the hosts sent their thoughts and prayers out to Robin Williams and his loved ones.
National Suicide Prevention Lifeline Phone Number

1-800-273-8255
After the segue to end all segues, Teresa shared listener emails on a variety of topics, including cosplay and fandom fatherhood. The ladies are always happy to hear that listeners are surprised they enjoy hearing about Star Wars from the fangirl perspective!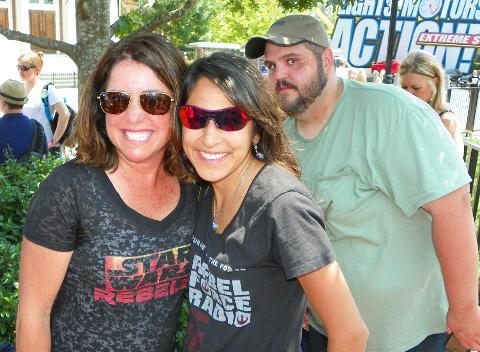 After the Fangirls bestowed Steve with the title of honorary fangirl, he shared his first memories of Star Wars – falling asleep during The Empire Strikes Back! – and what being a fan means to him.
What's new in Star Wars? Apparently a lot! Tricia, Teresa, and Steve shared their favorites. They include the new Star Wars Rebels clips, Vanessa Marshall and Tiya Sircar being admitted into the Mandalorian Mercs, San Diego Comic-Con's Hallmark exclusives, A New Dawn by John Jackson Miller, Episode VII filming in Ireland, a fanfilm with ties to a University of Georgia football star, and Kevin Smith's reaction to his visit to Pinewood Studios.
After an explanation of Justin Bolger's tweet from the Star Wars Rebels panel at San Diego Comic-Con, Steve helped the fangirls talk about the double standards that exist in fandom. A tweet by a Star Wars parody account also was discussed.
[tweet_embed id=492485985762934784] [tweet_embed id=495513139295690752]
Gatekeeping in fandom wasn't going to dull the enthusiasm on the show for all things Star Wars on the horizon. Teresa looks forward to Star Wars Itty Bitties, and Tricia to the last Legacy Volume 2 comic issue and Fantasy Flight's RPG Age of Rebellion.
The character discussion got a bit hairy this episode as Steve chose Chewbacca. We considered his place in the saga, his death, and whether the Wookiee should always win.
Be sure to check out Steve's shows including Geek Out Loud and Disney Vault Talk, which is co-hosted by Teresa. Follow Steve on Twitter at @GeekOutLoud.
Where to find us:
Twitter: @FGGoingRogue
@fangirlcantina
@icecoldpenguin
instagram: @FGGoingRogue
Email: fangirlsgoingrogue@gmail.com
Voicemail: 331-21 Ewoks
331-213-9657
Facebook: search for Fangirls Going Rogue
Tumblr: fangirlsgoingrogue.tumblr.com
Please go like Rebel Force Radio on itunes and leave a positive review, and in your review mention how much you like Fangirls Going Rogue
Until next time: Yub Yub!