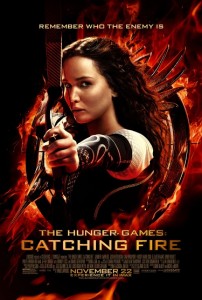 October promises initial word on Star Wars Rebels and the prospect of news about Episode VII. In the meantime, we'll continue discussing a number of topics.
---
Star Wars at GeekGirlCon – After last year's standing-room-only Star Wars panel, I'll be hosting another Star Wars panel at this year's convention. We'll have preview posts and a full recap afterward, of course.
---
New York Comic Con – FANgirl will also be experiencing the madness of the Big Apple's premiere genre convention this year. Check back for analysis of the Star Wars Rebels panel and other developments.
---
More Heroines – Catching Fire is almost here, I expect good things from Star Wars, and I can share more about my own heroine in my forthcoming novel Wynde. Admittedly all of these things are exciting, especially that my manuscript will be handed off before the month is half over. Then there will be news, and time to write about lots of heroines, whether it be analyzing them or spinning new fiction.
---
Here are a few of the other things we're looking forward to in October:
New Star Wars Books
The Making of Return of the Jedi – October 1st
Star Wars Art: Concept – October 15th
The Bounty Hunter Code – October 29th
New Star Wars Blu-ray/DVD
Star Wars: The Clone Wars: The Complete Season Five – October 15th
New Star Wars Comics
The Star Wars #2 – October 2nd
Star Wars #10 – October 9th
Legacy #8 – October 23rd
New Movies
Captain Phillips – October 11th
Escape Plan – October 18th
Television Returning Shows & Premieres
The Vampire Diaries – Thursday, October 3rd at 8:00 p.m. on CW
The Originals – Thursday, October 3rd at 9:00 p.m. on CW (season premiere)
The Originals – Tuesday, October 8th at 8:00 p.m. on CW (regular timeslot)
Supernatural – Tuesday, October 8th at 9:00 p.m. on CW
Arrow – Wednesday, October 9th at 8:00 p.m. on CW
Once Upon a Time in Wonderland – Thursday, October 10th at 8:00 p.m. on ABC
White Collar – Thursday, October 17th at 9:00 p.m. on USA
Covert Affairs – Thursday, October 17th at 10:00 p.m. on USA
Grimm – Friday, October 25th at 9:00 p.m. on NBC
New Releases on DVD
The Little Mermaid: Diamond Edition – October 1st
The Wizard of Oz: 75th Anniversary Edition – October 1st
Much Ado About Nothing (Whedon, dir.) – October 8th
Pacific Rim – October 15th
Latest posts by Administrator
(see all)