Fangirl Chat: Episode 5: Star Wars VIPs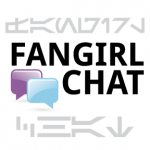 On our fourth installment of Fangirl Chat, Teresa and I talked about the Rebels news from the Dave Filoni panel. We have a year to go until we see this show realized, but I'm sure between now and then we'll have many opportunities to chat, especially when we get character reveals.
In Episode 5, we chatted about the five VIP panels hosted by Warwick Davis. First we discussed "The Golden Hour with Anthony Daniels," which was lived blogged. He sat down for a post show interview with Davis, as well. Both are available at StarWars.com. Then we covered the "Evening with The Emperor with Ian McDiarmid" and his post show interview. Sunday's events included "The Fett-tastic Four" and their post-panel interview. The two main events for Star Wars VIPs were Carrie Fisher's "Straight Talk With a Princess" and "Mark Hamill: The Jedi Returns." Carrie also talked with Davis after the show. Teresa and I shared our favorite moments and some of the highlights during the chat.
Up next on our chats, well, nobody knows. Perhaps some news after D23 to discuss?
---
Fangirl Chat features short discussions on current Star Wars topics, including the upcoming Sequel Trilogy and Rebels television show news. Teresa Delgado (Fangirl Next Door, Star Wars Bookworms) and Tricia Barr (FANgirl Blog, Suvudu, Star Wars Insider) stay on target to deliver focused segments with the busy but interested fan in mind. For our latest happenings, follow Teresa on Twitter at @icecoldpenguin and Tricia at @fangirlcantina.