THR Declares DC Heroines SDCC's Losers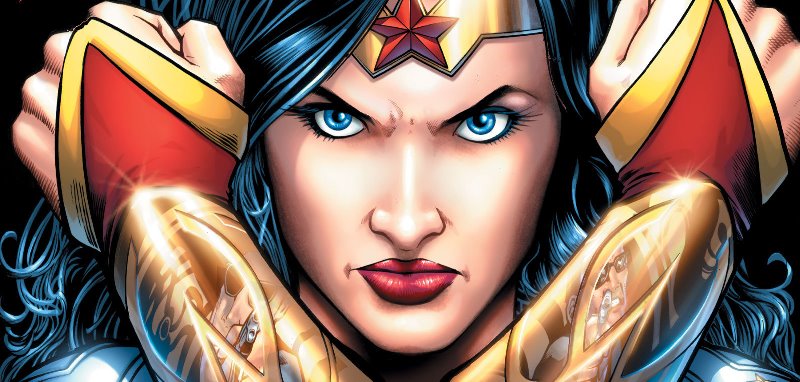 When The Hollywood Reporter sat down with DC Entertainment president Diane Nelson to talk about the future of their superhero franchise prior to San Diego Comic-Con, I had the suspicion something preemptive was involved. She was asked about Superman, Green Lantern, and Wonder Woman.
THR: There have been a few attempts at bringing Wonder Woman to the screen — the Joss Whedon feature that was canceled in 2007, David E. Kelley's 2011 TV pilot — but nothing has stuck.

Nelson: We have to get her right, we have to. She is such an icon for both genders and all ages and for people who love the original TV show and people who read the comics now. I think one of the biggest challenges at the company is getting that right on any size screen. The reasons why are probably pretty subjective: She doesn't have the single, clear, compelling story that everyone knows and recognizes. There are lots of facets to Wonder Woman, and I think the key is, how do you get the right facet for that right medium? What you do in TV has to be different than what you do in features. She has been, since I started, one of the top three priorities for DC and for Warner Bros. We are still trying right now, but she's tricky.
After the convention, it seems this was an attempt to prepare the fandom for the news – Superman and Batman pair up in 2015, Flash in 2016, and Justice League in 2017. Four years until Wonder Woman will appear in an ensemble movie. Yesterday, in its San Diego Comic-Con 2013 Winners and Losers post, DC Heroines were The Hollywood Reporter's first "Losers" listed, after DC's heroes were declared the first "Winners."
Namely, Wonder Woman. When Warners announced a Superman-Batman movie for 2015 and nodded heavily toward a Justice League movie in the pipeline, the general response was, "Okay, but where's Wonder Woman?" In a world where everyone is wondering if, in the wake of Pacific Rim and RIPD's poor box-office, the power of the fanboy is fading, the fact that WB/DC isn't telling nerds at the nerd prom that she's definitely in the works — a movie that could appeal to a huge segment of the moviegoing population — is baffling at best.
Chris Lough at Tor.com has a great commentary piece about DC's struggles with their iconic characters on the big screen.
But the question remains… why can't DC and Warner Bros. sustain their characters on the big screen? Marvel Studios has forced the issue by being such a ubiquitous presence, but DC has an advantage in that their heroes already possess the iconic presence that Marvel is attempting to construct through its slate of films. Superman and Batman are larger-than-life figures and their most successful film outings present them as such. Why not attack the task of a Wonder Woman movie with the same approach?
In the assessment of Matt Patches in Film.com's article "DC Disaster? Batman/Superman Movie Suggests WB Will Sacrifice Character For Crossover Potential," the sacrifice isn't a particular character, but rather character building.
If Hollywood is going to tell stories with the mythological figures of comic books and do it on the largest canvases possible, they need to do it with an eye towards humanity. Plot is standing in their way. Poor, Wonder Woman — there is a gal with an interesting story, plenty of modern hurdles (both technological and social) standing in her way, and with the backdrop of action that would make her consumer friendly. But she's not part of the picture, reduced to a side player in 2017's "Justice League."

Warner Bros. wants to bring characters we know and love to the big screen in epic fashion. Instead, their plans make it seem as though they're opting out of bringing any "character" into the equation.
Last week, The Mary Sue showcased a video by Crazy Sexy Geek podcaster Alan Kistler that effectively makes the point that Wonder Woman's story really shouldn't be that hard to tell, and more importantly that it is relevant. Susana Polo also weighed in on the "tricky" part about Wonder Woman.
Finally, as a reminder of the appeal of the DC superheroine, Culture Weekly interviewed Wonder Women: The Untold Story of American Superheroines director by Kristy Guevara-Flanagan this week. The documentary was previewed in 2011 at GeekGirlCon and then screened in 2012 at the convention. Sophia Stein, who conducted the interview, describes the film's ending:
The film ends with comic artist and writer Trina Robbins recounting the very poignant story of her own metamorphosis into a super-heroine. On the way to a conference one day, she decides to dress the part. Riding the New York subway in her homemade super-hero get-up, she suddenly feels completely ridiculous! But then, just as she is exiting the subway car, she overhears cries for help from a damsel in distress. She runs over to assist a blind woman to reach a telephone booth. "And she didn't even need a quarter for the call!" We are left to contemplate how an act of true heroism may be as simple as tuning into the humanity of another.
The question remains, what's so hard about Wonder Woman?
---
Tricia Barr took her understanding of brand management and marketing, mixed it with a love of genre storytelling, and added a dash of social media flare to create FANgirl Blog, where she discusses Star Wars, fandom, and strong female characters. She also writes about Star Wars for Random House's science fiction and fantasy blog Suvudu.com and Star Wars Insider magazine and is a contributor for Her Universe's Year of the Fangirl. She has recently joined Beyond the Screens podcast as a regular contributor.
Tricia is putting the finishing touches on her first novel, Wynde – a military science fiction with a fantastical twist that features heroines Vespa Wynde and Gemini Reed. For excerpts and tales of her adventures in creating a fictional universe, hop over to TriciaBarr.com.
For updates on all things FANgirl follow @FANgirlcantina on Twitter or like FANgirl Zone on Facebook.