July is shaping up to potentially mark a big month for fandom news. Consecutive weekends in the second half of the month will host San Diego Comic-Con and Star Wars Celebration Europe II. Whether it's movies, television, or Star Wars, it's sure to be an interesting couple of weeks.
---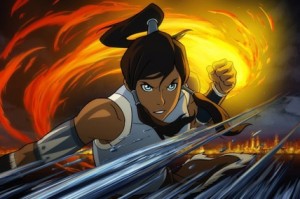 Star Wars – Kay reviews the latest Expanded Universe novel, Troy Denning's Crucible. Also look for a review of recent Dark Horse comic storylines. And depending on what news breaks from the convention, we may have a lot more to say.
---
Korra's Heroine's Journey – Lex revisits the Seeking Strong Female Heroines series with a discussion of The Legend of Korra and its titular character, including how her Heroine's Journey compares to others we've written about previously.
---
Here are a few of the other things we're looking forward to in July:
New Star Wars Books
William Shakespeare's Star Wars – July 2nd
Crucible – July 9th
New Star Wars Comics
Star Wars #7 – July 10th
Legacy: Prisoner of the Floating World #5 – July 24th
Dawn of the Jedi: Prisoner of Bogan (TPB) – July 31st
Agent of the Empire: Hard Targets (TPB) – July 31st
New Movies
The Lone Ranger – July 3rd
Despicable Me 2 – July 3rd
Pacific Rim – July 12th
Red 2 – July 19th
The Wolverine – July 26th
Returning and Premiering Television Series
Marvel's Avengers Assemble – July 7th at 11:00 a.m. on Disney XD
Covert Affairs – July 16th at 9:00 p.m. on USA
Suits – July 16th at 10:00 p.m. on USA
Television Series Season Finales
Defiance – July 8th
Warehouse 13 – July 8th
New Releases on DVD
The Legend of Korra: Book One: Air – July 9th
Warehouse 13: Season Four – July 9th
G.I. Joe: Retaliation – July 30th
Latest posts by Administrator
(see all)