UPDATED: Ashley Eckstein Star Wars Books Chat Today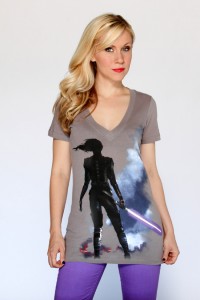 Earlier this week, Her Universe previewed their new line from AMC's The Walking Dead, which is set to debut at San Diego Comic-Con. Today Ashley Eckstein will be chatting with fans on the Star Wars Books Facebook page at 3:00 p.m. EDT. The last time she chatted with Star Wars Books fans, Ashley revealed that Her Universe had acquired the rights to design shirts featuring characters from the Expanded Universe, with Mara Jade and Jaina Solo specifically mentioned. Hopefully we'll have more good news for EU fans of Her Universe!
We'll provide a recap after it's over.
Update: The good news is that fans will now have the chance to wear shirts with their favorite Star Wars Expanded Universe heroines – Mara Jade and Jaina Solo! You can check out the chat here, and if you have a specific character, art, or moment you'd like to see featured on merchandise, Her Universe wants to know. As I often remind fangirls, if you want something it's important to speak up, so take the opportunities when they're presented. You can follow Her Universe on Twitter @HerUniverse or Facebook.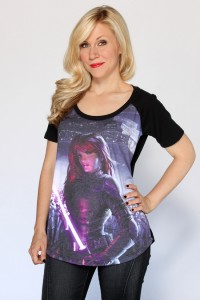 An Ahsoka shirt designed by Dave Filoni, Darth Vader and R2-D2 dresses, and new shirts from Battlestar Galactica, Dr. Who, and Star Trek were also announced as part of the Her Universe San Diego Comic-Con launch.
I have a recap post over at Suvudu now!
---
Tricia Barr writes about Star Wars for Random House's science fiction and fantasy blog Suvudu.com and Star Wars Insider magazine and is a contributor for Her Universe's Year of the Fangirl. She has recently joined Beyond the Screens podcast as a regular contributor.
For updates on all things FANgirl follow @FANgirlcantina on Twitter or like FANgirl Zone on Facebook.