Star Wars Day 2013 Highlights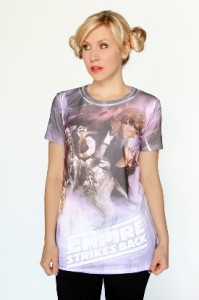 Another great May the Fourth for Star Wars fans this year. Here are some of the highlights:
Star Wars has been a commercial success, both at the box office and with merchandise, from the very beginning. So it's no surprise that every year more licensees and vendors are cashing in on the Star Wars Day phenomenon. This year, StarWars.com provided a handy reference list of the sales, discounts, and new products. I joined the fray with my Her Universe order from Hot Topic.
Speaking of Her Universe, two very appropriate ladies were featured as the Fangirls of the Day this weekend: Mary Franklin and Consetta Parker. Perfect choices for May the Fourth weekend!
Star Wars items made the rounds online too, naturally. At io9, Charlie Jane Anders shared a great tribute to Leigh Brackett, emphasizing her contributions to The Empire Strikes Back and her determination to keep writing the "science fantasy" and "space opera" she loved despite the disrespect those kinds of stories often earned in genre circles at the time. And thanks to Dunc at Club Jade for highlighting articles about two creators of the new Star Wars films: Slashfilm's exclusive look at some of Lawrence Kasdan's screenplay pages for Empire and the L.A. Times Hero Complex interview with Simon Kinberg.
Disney's Hollywood Studios in Florida hosted a special May the Fourth day a couple weeks earlier than the official start of Star Wars Weekends. Thanks to Teresa Delgado and Nanci Schwarz for their fun live-tweeting from the park. And how about their great photo of four Star Wars fangirls in their Her Universe Mara Jade t-shirts outside Star Tours? Love it!
On the other side of the country, Entertainment Weekly's Cape Town hosted a pair of thirtieth anniversary screenings of Return of the Jedi in Los Angeles. Amy Ratcliffe, Club Jade's James Floyd, and Lightsaber Rattling's Pete Morrison, among others, were able to attend. After the screenings, Mark Hammill spoke to the fans. Ain't It Cool and IGN provided recaps of his remarks.
May the Fourth be with you!